Signe Bekmand Tangen
BA degree:
BSc in Geology, Tromsø University

Occupation:
Civil Engineer, Vianova AS

QnA

Why did you choose your specific programme at SDC?
I wanted a career doing something meaningful. Water is the most important resource in the world and if you have too much, as in heavy rain or too little as in drought, it will impact your daily life.

What are the most important academic skills/knowledge you have acquired during your master's?
I learned a lot from spending a year writing my master's thesis. I wrote my thesis for a Norwegian treatment plant, which was interesting and having Danish and Chinese supervisors gave it different perspectives.

What have you otherwise learned?
I've learned cooperating with different cultures, I'm more patient and I'm calm in most situations.

What is the study environment like?
The study environment was very good, since you are so far from home, your classmates become your family. There were always people, who would like to join you if you wanted to travel, go to a restaurant, or try something new.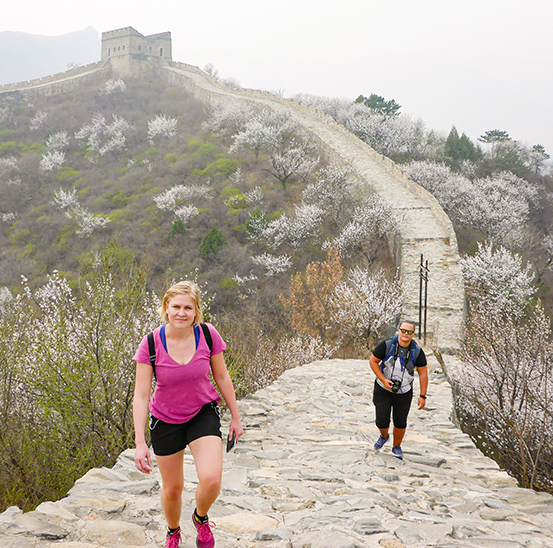 What is it like to live in China?
Chinese culture is very different from Scandinavian culture, so at times it will be difficult to understand one another, however most people are very welcoming and helpful. One surprise was the amount of people taking pictures of me.
What is nice when living in China is that adventure is right outside the door. One of my greatest memories from china is waking up every day eating breakfast sitting in my window at the dorm while enjoying the view of the Great Wall of China.

What do you think about the physical environment of SDC?
The campus was very nice with places to play tennis, football, a running track etc.

What is the social life like?
You mostly hang out with your classmates in your spare time. Since there are quite a few students, there are many options for what you can do in your spare time.

What did you do in your spare time?
In my spare time I traveled, went to restaurants with my classmates. I also like to run, so I went for runs outside campus, which is a nice way to see the area.
Where did you intern/work on thesis project and what did you gain from it?
I wrote my thesis for a wastewater treatment plant. I spent a lot of time in a lab, which I have used later in my work. I also gained some practical experience, which is useful as an engineer.

How has your time at SDC/your MSc programme impacted your career?
I think have had unique experiences that are interesting for many and a different perspective, which is useful.

What would you wish you had known before applying to an SDC programme?
How fast time goes and how big China is, it is impossible to see everything in a year.

Would you recommend others to choose the programme? If yes, what are the main reasons?
Yes, because it is an opportunity you will probably never get again. Because you will grow a lot as a person within a year and gain some valuable experiences.