Emil Bay Frantzen
BA-degree:
B.Sc. in Biology from the University of Southern Denmark

Occupation:
Environmental Advisor

Why did you choose the Water and Environment programme at SDC?
I chose Water and Environment because the program offered appealing courses on topics within the area of environmental context and on the impacts of contaminating components. The program was neatly structured in modules, with initial separated courses on hydrology, freshwater ecology and biogeochemistry, whereas following courses integrated the founding courses in a complex, interesting way.

Being located in the outskirts of Beijing, I also chose the program due to the additional adventure it is to study abroad, and the cohering forced necessity it implies to rethink and work in international constellations.

What are the most important academic skills/knowledge you have acquired during your master's?
The program teaches you to understand environmental correlations, and it enables the student to asses impacts from various interventions in effect to direct or in-direct human affairs. Further, the program widely engages students to collaborate across educational and national backgrounds, thereby developing your ability to share information and complete tasks trough teamwork.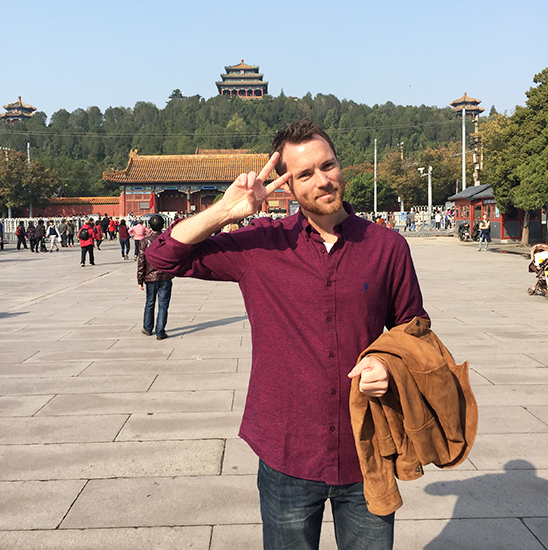 What is the study environment like?
The study environment is generally based on preliminary literature and lectures, followed by subsequent tasks in groups that concludes in presentations performed by each group. In this way, every student contributes to the common understanding of the classroom, while at the same time he/she strengthens his/her communicative skills.

What is it like to live in China?
Not surprisingly, it can be very difficult to catch a bus, order a glass of water (beer is easy: PITCHU), ask for directions, and so on. However, it is part of the experience to be exploring completely new grounds, and it is a fun experience to share with your classmates. You are obligated to attend Chinese language class which can seem like a big undertaking in midst of your primary studies, but it should be appreciated as it can show very helpful in many basic situations you'll encounter. Within campus grounds, most things are quite easy to accomplish.

What do you think about the physical environment of SDC?
The dorms at the Campus are very nice. Students are divided into small community sections of 5-7 persons with shared living room and toilets. Each have their own private room for studying and sleeping, possibly with a nice view to a section of the Chinese Wall. The campus is quite large and a bicycle or other ways of transport is convenient. The campus encompasses facilities such as indoor and outdoor sports facilities, it even has an indoor public (to the students) swimming pool, and there are nice restaurants just outside the gate. The SDC building was barely finished during my time there. It showed promising studying facilities.
What is the social life like?
During my time at Huairou campus there was always someone to hang out with. You get very close friends with the rest of the cohort and with people from the different programs at SDC. Trips to restaurants, Beijing city-center weekend trips, and even further expeditions to exciting corners of China is within your reach. With friends and visiting family, I've went to places such as Chengdu, Huangshan, Xian, Shanghai, Hebei, and a few more.

Where did you work on your thesis project and what did you gain from it?
For my thesis I worked 1 year at DTU in Copenhagen. During that time, I gained valuable insights into the field of soil and groundwater contamination. With great guidance from at fellow PhD student I spend hours after hours in laboratories, obtaining results and expanding knowledge on an innovative remediation technique. It was a tough but also very forming year. It gave me the initial foundation to my current job position.

How has your time at SDC/your MSc programme impacted your career?
I am very happy to have been part of the SDC program. It has provided me with a rare CV that tells the story of a candidate who wishes to go the extra mile in life, the story of a candidate that weighs both professionalism and personal development high, as well as the story of a candidate that balances the principle of freedom with responsibility.

Would you recommend others to choose the programme?
Yes, absolutely!