Selma Mahamed
BA-degree:
Business Administration & Service Management, Service & Innovation
Copenhagen Business School

Occupation:
Administrative Officer, Ministry of Finance of Denmark

QnA

Why did you choose the programme at SDC?
I was interested in learning about the global political economy and at the same time enjoy a cultural experience in another country.

What are the most important academic skills/knowledge you have acquired during your master's?
Political systems, institutional changes and development and a deeper insight into how politics (among others welfare and social policy) are shaped.

What have you otherwise learned?
The university experience in China was different. Significantly more reading material, which tested my discipline. Chinese classes and having to speak Chinese was also challenging, but I appreciated being able to communicate (limitedly) with locals.

As for doing project work with persons of different backgrounds I learned that "my way" was not the only approach and that collaboration requires compromise.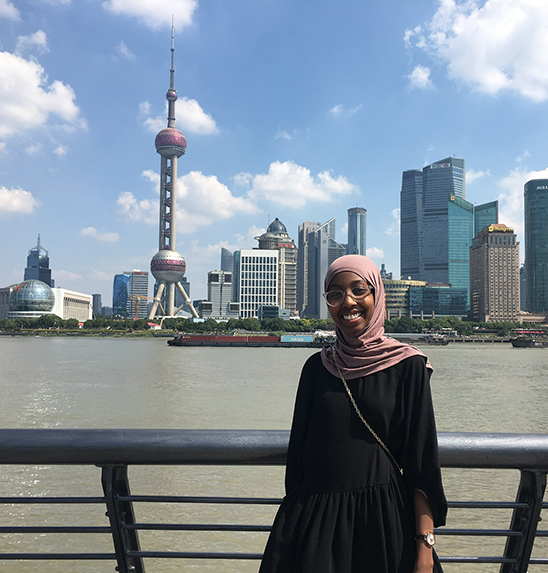 What is the study environment like?
The study environment was fun but also intense as we were a small community that lived together. Campus environment was significantly different from the Danish, as almost all time is spent on Campus – both studying, eating, and doing social activities.

What is it like to live in China?
China is incredibly multifaceted. There is no one Chinese experience. For me, it was both fun to experience something different than I was used to, but it was also incredible challenging. My best experience was definitely how helpful and welcoming everyone were – I didn't expect to be met with such generosity and with people wanting to help you with everything from moving into your dorm to getting a sim card.

What do you think about the physical environment of SDC?
The SDC campus itself was great – the academic building and the sport facilities onsite were nice. However, the dorm rooms themselves were not topnotch – for example the hot water was limited and there was squat toilets.

What is the social life like?
The social life is what you make of it. Being a small community of students we arranged our own Friday bars, sports activities and even a winter gala. The environment creates a great opportunity to make new friends.

What did you do in your spare time?
Besides constantly catching up on heavy reading material, I did my best to visit the nearby city, use the sports facilities or spend time with my friends on campus. A lot of people also spent much time travelling.
Where did you intern and what did you gain from it?
I interned at the Danish Embassy in Malaysia. Being in the region made it easier for me to apply for internships all around Asia. Your willingness to move around is much higher, when you have already taken the first step.

How has your time at SDC/your MSc programme impacted your career?
I think the international experience has been particularly valuable – especially for someone like me, who wants to go back overseas.

What would you wish you had known before applying to an SDC programme?
I would wished that I knew better about the dorm facilities – although I don't think it would have made me change my decision.

Would you recommend others to choose the programme?
Definitely. For academic purposes, the programme was interesting and challenging – we had lecturers and professors from different universities and institutions which gave a diverse teaching experience.
It goes without saying that living in China is a unique experience. However, you have to have an open mind – it may not be for everyone.