Rasmus West Knopper
BA-degree:
B.Sc. in Sports Science, Aalborg University

Occupation:
PhD candidate at the Department for Clinical Medicine, Aarhus University

QnA

Why did you choose your specific programme at SDC?
People close to me have suffered from both Alzheimer's disease and Parkinson's disease. I have always been fascinated by how deviations from the "normal" brain manifest themselves in conspicuous manners as seen in these neurodegenerative diseases. I was, therefore, very intrigued by learning about the underlaying mechanisms when I was first introduced to neuroscience during my bachelor's degree. As no other master's programme in Denmark had a similar profile at that time, I chose to pursue a master's degree in Neuroscience and Neuroimaging at SDC to learn more about the brain.

What are the most important academic skills/knowledge you have acquired during your master's?
I came empty handed regarding lab experience when I started on the Neuroscience and Neuroimaging programme. Therefore, working in the lab while writing the master's thesis was an extremely educational period. The lab skills I learned back then are some of the things that I value the most today.

What is the study environment like?
I think SDC students have various reasons for studying abroad. Common to most is probably to have some degree of wanderlust and curiosity for new cultures. However, in my experience, the main driver is still to learn as much neuroscience as possible. The time schedule is really packed and you'll have to learn a lot in a short period of time. We usually sat together in the afternoons and evenings going through today's class and preparing for the next day's class while supporting each other in learning the course materials. In terms of the physical study environment, the SDC building provides good facilities for both group work in open areas, but also individual work in reading rooms.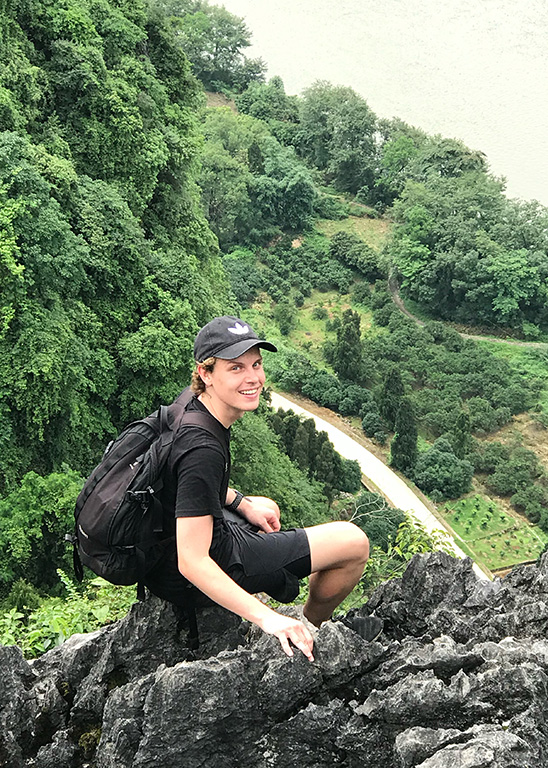 What is it like to live in China?
I have never experienced such a cultural distinctive society as China. So, more than anything else, it's different to live in China. At first, there's a lot of small surprising elements in one's daily life such as "Why's there no hot water during my morning shower?", "Why's there a bin for used toilet paper next to the toilet?", and "How do I order food from a menu card purely in Chinese and without pictures?!". Don't worry, your Chinese classmates will always be really helpful and learn you how to navigate through all despair. In no time you'll know the name of all the tasty Chinese dishes, enabling you to order it by yourself in the canteen or at a restaurant. Just don't expect a hotel stay – you'll of course be living on an equal footing with all other Chinese students on campus. Larger elements such as incomprehensive rules and extensive documentation can be more difficult to understand. However, this is all a part of living abroad and I'm really glad to have experienced it all. One thing I never got use to was the days with heavy air pollution which unfortunately still occurs.

What do you think about the physical environment of SDC?
We used a lot of time at the SDC building. Whether you want to study in the open areas with large window sections, enjoying a cup of coffee in beautiful furniture by Finn Juhl, drinking a beer at the Friday bar or gathering for a movie night, the SDC building is the place to be. The dorms are nothing special and mostly for sleeping. The campus provides good facilities for doing sports and there's a lake with a nice view close by as well. However, the campus can be quite a monotonous environment, meaning that it's often needed to get some diversion. In that case, a day trip to Beijing might do the trick. It is also recommended to take a walk on the Great Wall of China which is visible from the classrooms of the SDC building.

What is the social life like?
We often compared being an SDC student with being on a Danish boarding school. You spend a lot of time together with your classmates both during school hours and after school meaning that you will become really close with them.
What did you do in your spare time?
Watching movies, running, playing table tennis and badminton. However, studying for the next day takes up most of your spare time. Some students took advantage of the weekends by organizing trips to Beijing while staying at an Airbnb. During the national holidays, one really gets the chance to travel around in China and the surrounding countries which is highly recommended. We went on city breaks to Shanghai and Hong Kong by train and also a weekend trip to Seoul. We also experienced the beautiful nature in the rice paddies of Guilin and the breath-taking Avatar-like mountains of Zhangjiajie. During the Chinese New Year, we went to both Vietnam and the Philippines. So, it's definitely also possible to see other things than the inside of the SDC building.

Where did you work on your thesis project and what did you gain from it?
I worked on my thesis at Institute of Neuroscience in Shanghai, but half of the stay was cancelled due to COVID-19. Luckily, they don't waste their time in China. A couple of weeks after I arrived, I found myself doing surgeries in mice with no prior lab work experience. In general, I felt encouraged to venture into the lab work to get some experience as fast as possible. Today, I'm extremely glad to have gained all that experience in a relatively short period of time.

How has your time at SDC/your MSc programme impacted your career?
While working on my master's thesis in Shanghai, my Danish supervisor offered me a position as a PhD student in his lab if we could get funding for the project. Luckily, the SDC wanted to fund a large part of the project and I'm now employed as a PhD student at Aarhus University.

Would you recommend others to choose the programme?
Yes, of course! Mostly because you learn lots of interesting neuroscience during the classes and in the lab, but also because of all the experiences included in a two year stay in China.