Radwaan Aways Ahmed
BA-degree:
B.Sc. in Economics and Business Administration, Aalborg University

Occupation:
HR Generalist at Accenture

QnA

Why did you choose your specific programme at SDC?
Originally, I was not planning on pursuing a master's degree. However out of curiosity I looked at the options that Aalborg University were offering. As I was reading through my options I came across Innovation Management which immediately stood out to me. The program was interesting to me and the idea of doing a whole master in Beijing and live and study in this cul-tural environment was too hard to pass up.

What are the most important academic skills/knowledge you have acquired during your master's?
I would have to say a deeper insight into how to be innovative and stay competitive in today's society. What would it require to optimize, strategize especially from a cultural perspective as I focused on the cultural elements throughout my academic time at SDC.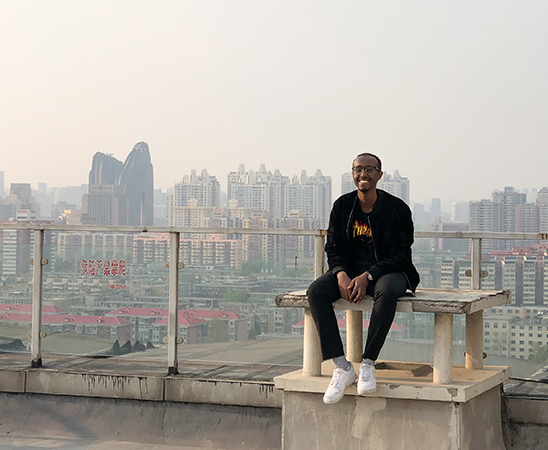 What have you otherwise learned?
It allowed me to grow and be more open to new encounters and environments. Because life is about taking risks and at times going with the flow, and you will definitely need to go with the flow while living here.

What is the study environment like?
I really appreciated that problem based learning was a huge part of program and we got to collaborate with different organisation and draw inspiration from outside of the textbooks. Also, the fact that we got to focus and go in-depth on one subject at a time and then do the exam before moving on to the next one.

What is it like to live in China?
It was my first time living in China and it was challenging at times, but also a once in a lifetime experience. I thought I would be kind of prepared because I had spent time in East Asia before but it did not prepare me fully for China and living in Beijing. It was different from anything I had ever encountered from food, culture and perspective. It took a while to get use to this new environment and kind of roll with the punches. But approaching it with an open mind, and learn to be patient will get you a long way in China, because each day and situation can and will be different from the last.

What do you think about the physical environment of SDC?
The life on campus is nice as it is rather large with various facilities and clubs that you can join. It was great to have the SDC building that was just for us and it was relatively modern and up-dated which was in contrast to our dorms.

What is the social life like?
Because of the location of the university a lot of the social life happens on campus. SDC has students from various backgrounds which offers so many different educations there are a lot of different people (in terms of mind-sets etc.), as such there was a place for nearly everyone, and depending on what you wanted to do there was in my case always one or more people that wanted to join. That being going out partying, studying late, or just watching a movie.
What did you do in your spare time?
During the weekdays, I would stay on campus while a lot of weekends were spent going to downtown Beijing and explore what the city has to offer.

Where did you intern/work on thesis project and what did you gain from it?
For my internship, I went to Taipei to work for ISS A/S for their division in Taiwan. I was working as a marketing communication and operational excellence intern for 6 months. I really enjoyed my time as my boss was very willing to allow me to shape my internship and it was more of a collaborative environment where my opinions were valued and trust to handle larger projects individually. Taipei is an amazing place filled with great food, nature and people.

How has your time at SDC/your MSc programme impacted your career?
It has provided me with a unique CV and it was always a conversation starter from my studies in Beijing to my internship in Taipei. It was always viewed as a positive thing and people became interested as to why. It tells the story of a candidate who is willing to take risk and step out of their comfort zone.

What would you wish you had known before applying to an SDC pro-gramme?
That I should have allowed myself to enjoy more of China and made more of an effort to travel around this huge country filled with various cultures and rich history. I should not have pushed it off to a later time, because you never know if sometime comes along that will prevent you from travelling.

Would you recommend others to choose the programme?
I would definitely recommend others to pursue or considering during their masters at SDC. It can be a very transformative experience or that was at least the case for me because it can be very much a sink or swim type of situation.