Sejr Tholstrup Nielsen
BA-degree:
B.Sc. in Chemical and Biochemical Engineering at University of Southern Denmark

Occupation:
Process supporter at Novo Nordisk

QnA

Why did you choose your specific programme at SDC?
As I studied chemical engineering on my bachelor, it was natural to continue studying chemical engineering, as well as my interest are with in the scoop of design and optimization of chemical and biochemical processes. However, studying chemical engineering at SDC presented some great opportunities to live and learn in another country and learn for different cultures.

What are the most important academic skills/knowledge you have acquired during your master's?
Academically there was not a big difference between taking a similar program in Denmark, compared to taking my master at SDC, and I could get similar courses in Denmark. But I knew this before going and the course programs was not what attracted me to apply for SDC. However, I got a great insight into the coating industry, which I probably would not have gotten if I had stayed in Denmark and have found that it is a much larger part of our daily life and all of the opportunities there is with it, as well as interesting chemical and physical properties that can be incorporated in to coating.

What have you otherwise learned?
I have learned a lot about myself! Gotten better at working in teams, where there is a difference between what background each member comes with and how it can be best utilized to reach a common goal. The importance of communication and why it is important that everyone understands the problem. That there are many different ways to approach a problem and so much more about myself, which also is one of the things I think is great about studying abroad, that you learn a lot about yourself and how to interact with other cultures and people.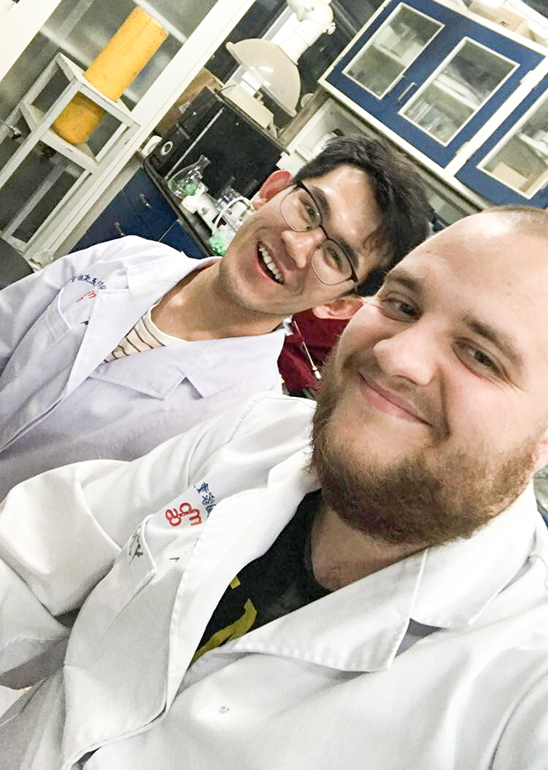 What is the study environment like?
It was different from what I was used to from studying in Denmark where most programs are build up with having multiple courses at the same time over a semester, where as at SDC we had modules, with only on course at the time over 3-6 week depending on the course load, which meant that the workload was a bit more concentrated. Which is have both positives and negatives in the way that you are only focusing on one topic, but if there is something you want to think through you can not spend 3-4 days thinking about it. Beside of that I think we had a great study environment in our program where, we had great cooperation between us and helped each other understand the different topics and courses.

What is it like to live in China?
It was different from living in Denmark, with some of the biggest challenges was the languages barrier and that not everybody understands English. This gave some fun moments, where I felt, that I learned a lot about myself and how to handle such situations. One of the biggest surprises, I had was the 2-hour long lunchbreak we had every day.

What do you think about the physical environment of SDC?
My cohort was some of the first that had the SDC building for classes and being social in, there was a few problems in the beginning. However, throughout the first semester some of the problems was fixed, and we started to furnish the student lounge, which ended up as great social space.

What is the social life like?
The social life was good both in class and cross the different programs. But I also thing that we had an advantages in CBE, that we were only two from the Danish side of SDC, which meant that we worked a little closer with our Chines classmates and thereby had more got a great relation with them.
What did you do in your spare time?
In the weekdays, I normally spent the time with my classmates or friends from other programs. Where we saw movies, played boardgames and the like. However, in the weekends it was not uncommon, that we took trips to Beijing.

What would you wish you had known before applying to an SDC programme?
It could have been nice to know the course load a bit more before going, so that you could be prepared for it. As it was not uncommon that we worked to 6-8 most of the weekdays, with lectures in the morning and then group work or project work in the afternoon. However, this meant I got closer to my Chines classmates. Also, the 2-hour long lunch break was something I had to get used to.

Would you recommend others to choose the programme?
I would like to recommend the program based on the experience I had, with learning from other cultures and live in an environment that fare from what I am used to from Denmark. But if the focus is on the academic of the program, it should be noted that it is not much different of other chemical engineering programs.