What to do with your free time!
01 February 2018
What to do when you don't have class, a paper to write or exams coming up? When you study abroad, you do not have to do a student job, attend family dinners or many of the other obligations you left at home. So, what to do with all of that spare time?

Innovation Management student Aydan, who has lived at the dormitory on campus for almost five months, unveils how she spends her free time.

"Living on campus means that we have great conditions for developing friendships and establishing ties. We have so much time together, and not a lot of things to distract us. We study, do a lot of sports and go out. Most of it we do together. That also means that it is important to arrange activities a bit farther away in order to get some new impressions," says Aydan.

Often the weekends are spent in Beijing or elsewhere outside of campus.

"We often go to Beijing to join different activities. When the SDC basket basketball team had a match in Beijing a group of students went there to support them and stayed in Beijing. When we celebrate birthdays it also often takes place in Beijing," says Aydan.

In the afternoons when she has closed the books she makes use of the sports facilities on campus. For instance, she runs to the Great Wall of China, walks around the Yanqi Lake adjacent to campus or plays badminton.


Everything gets easier in time
In the autumn Aydan and a fellow student went to Fragrant Hills Park to see one of the most spectacular natural sceneries in the hills, the red smoke tree leaves over the mountains. Every Mid-October to early November the Red Leaves Festival is held and one the most famous places in China to see the red leaves is the Fragrant Hills Park north-west of Beijing City.
An outing like this would not have taken place during the first weeks of Aydan's stay.

"Everything gets easier when you get a daily routine, get to know your fellow students and not least get an idea of how things work. In the beginning, it could feel like a handful to arrange a night in Beijing. When the taxi driver does not speak or read English, you do not know where to go or how to get around with public transportation," says Aydan.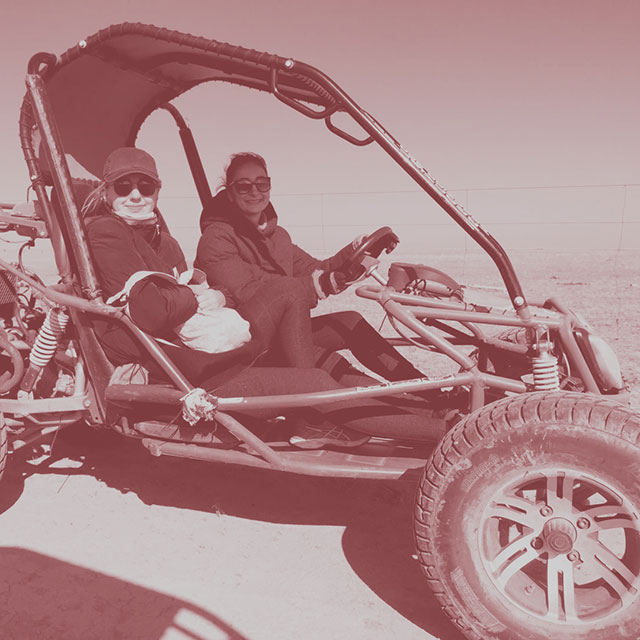 Inner Mongolia in a week
Now it is much easier to get things organised, and Aydan explains that the students have become good at making use of all the opportunities that are available in the Beijing area, when they are not poring over their books.
For instance, they organized a trip to Inner Mongolia, and more than 40 students, mostly international and a few Chinese, joined the trip. For a week, they travelled and rode on horses in the grasslands, camels in the desert and experienced Hohhot, the capital of Inner Mongolia.
Aydan has also been travelling in Vietnam with a friend, and in the months to come she will make use of the holidays by backpacking in Sri Lanka and visiting Dubai and Singapore. Aydan might study in Beijing, but she experiences much more than studies and Beijing.
Come along
Students regularly take over SDC's Instagram profile and give an idea of what it is like to study and live in China.
Follow SDC on Instagram.
Have a look through the gallery above to get a glimpse of Aydan's life in China.