We opened our minds to learning
29 June 2019
There were smiling faces all around when the latest cohort of SDC graduates were celebrated.

The soon to be ex-students were celebrated by their families and friends as well as PhD students, the Ambassador to Denmark, A. Carsten Damsgaard, SDC's Joint Managerial Committee and the Danish board of SDC.

Embracing differences
Among the speakers and speaking on behalf of the Danish and international graduates was Anne Eriksson Agger, who graduated from the Life Science Engineering and Informatics programme. For her, looking back, meeting her Chinese classmates and the local culture was intimidating, but she soon came to the realisation that her fears were foolish and that she would learn a lot.

" We had a high degree of academic excellence, but through our time at SDC we learned lessons equally as important as our majors. We learned to embrace our differences, and use it to gain further understanding and curiosity about each other. Science has already proven that diversity is important for gene pools, but it extends to so much more. Our diversity of knowledge, skills, background, and experiences that each of us brought to our classes and social activities, means more than we can possibly comprehend. However, only when diversity is combined with mutual respect and an effort to find common ground, something that unites us - will it be a true strength", says Anne Eriksson Agger.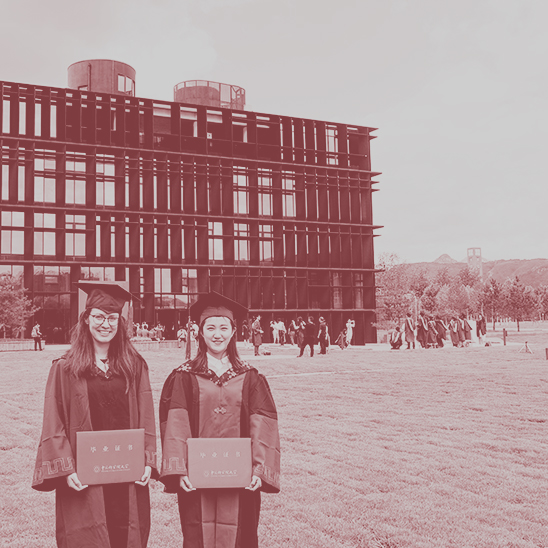 Anne Eriksson Agger and LANG Jiayan
Nobody knows what kind of challenges we are going to face
Speaking on behalf of the Chinese graduates was LANG Jiayan, graduate from the Nanoscience and Technology programme. She used her minutes on the podium to deliver an emotional speech in which she focused on the skills she has acquired throughout her education and also looked forward to things to come.

"We are in a changing world. Nobody knows what kind of challenges we are going to face. At SDC, we learned to think in an interdisciplinary and innovative way and to apply that approach. We prepared, became more competitive, and opened our minds to learning. In the future, we will be scientists, professors, entrepreneurs and business owners. I believe we are ready to conquer the challenges to come, because we are equipped with the most critical skills to succeed in the future", says LANG Jiayan.

Meeting the challenges of the 21st century
Head of the Public Management and Social Development Duncan Wigan took the stage to praise the graduates for their decision to take on the challenge of studying at SDC

"The most impressive thing about you, our esteemed graduates, is not that you are natural and scientific whizz kids, although of course that is impressive. The most impressive thing about you and the most important attribute you take forward is to meet the grand challenges of the 21st century" says Duncan Wigan.

Besides the commencement speakers, the Ambassador to Denmark, A. Carsten Damsgaard, Vice President at UCAS, Wang Yanfen and Danish Director of SDC Morten Laugesen gave speeches.