"We change directions based on results"
09 September 2016
Freja Gam Østergaard was browsing through job advertisements, when she saw it. The perfect PhD position combining her interests in neuroimaging and biomedicine

"When I looked at the description it was like reading a description of my bachelor and master's programme, and on the top of that it focused on Parkinson's disease, which I already had been looking into. I felt the position was tailor-made for me, and I could not do anything else but apply," Freja Gam Østergaard says about her current PhD position at Lundbeck.

24-year-old Freja holds a bachelor's degree in biomedicine and a master's degree in Neuroscience and Neuroimaging from SDC. The PhD position at Lundbeck and the University of York in England is a unique opportunity for her to combine her interest in neuroimaging and biomedicine.


The clear research progress motivates
Lundbeck is a global pharmaceutical company specialized in brain diseases, and as Freja thinks the human brain is one of the most exiting research areas, she is excited about spending the next three years focusing on Parkinson's disease. Also the way they do research in her division appeals to her.

"I like the way we always research with the latest results as a starting point. This means that when we get results we plan the future research from there, and in that way it is clear to see that we are making progress. It also ensures variation in my work as we change direction according to the research findings," says Freja.

She spends a lot of time testing laboratory rats as her project focuses on finding biomarkers suitable for early diagnosis and useful to monitor disease progression. There is a huge unmet need for treatments that alter the progression or even modifies Parkinson's disease, and being a part of a team working on this really motivates her.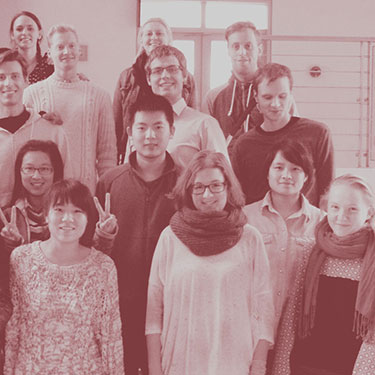 Working with European partners
At Lundbeck she has found a great scientific environment for PhD students with special focus on developing new treatments for brain disorders. Even though they have different academic approaches, she enjoys taking part in for instance the Journal Club. Here they take turns to present scientific articles to each other.
She also seeks out input and feedback from her European partners. Frejas PhD position is part of the project NextGenVis which is funded by a European Union Programme. The project brings together a team of researchers from the health care sector, universities and private companies. Therefore Freja collaborates with several European partners from Italy, Israel and Holland, and during her research she will spend a longer period at the University of York in England.