The world awaits you
05 July 2021
Graduates and their families, students and teachers were all ready to celebrate, when graduates of 2020 and 2021 received their double degrees. Almost 200 people joined the hybrid celebration, from SDC in China and online.

Xinlu Cai has been on an SDC journey since she started as a Master's degree student in Neuroscience and Neuroimaging. She now pursues an SDC PhD, but she took the audience back to her first day at as an MSc student:

'Our SDC journey started from that day. The beginning of the study at SDC is undoubtedly full of challenges, with a heavy course load and various discipline areas. Chinese students struggled to adapt to the English teaching, while Danish students needed to get used to the new lifestyle in China… Academically, the education of SDC cultivates an international and diversified vision, as well as an open and critical mindset for us, which will be of great benefit for our future personal and academic development,' she said.

Ready to enter the future job market
Members of the Danish board of SDC joined online, and Chairman Philip John Binning from the Technical University of Denmark drew everybody's attention to the future job market, and the fact that the outlook of the Danish business community in China is very positive, even after Covid-19. Four out of five Danish companies indicate that their present activities in China are essential to the global performance of their Danish mother company.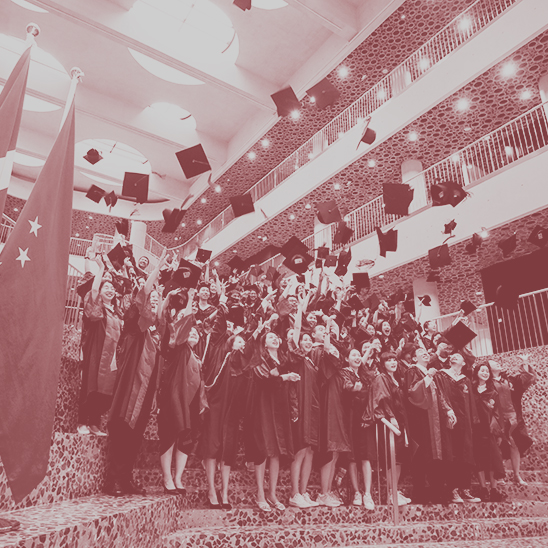 Graduation celebrations at SDC on 5 July 2021
'Over the last year, we have all been forced to rethink the way we work. But we have met the challenge, and benefitted from the close collaboration between China and Denmark… We have seen how well we can meet the challenge of a global pandemic. Take that experience with you, and show that no challenge you will meet is too big to be overcome,' he said.

'If you give a little of yourself...'
Neuroscience and Neuroimaging graduate, Mathias Klarlund concluded his speech with his closing thoughts on his time in China.
'There is much to be said, and I hope I can speak on behalf of many of my fellow students - Chinese as well as non-Chinese, that SDC's har given an experience for life. Educational and personal. And for all I've seen of China, all I've learned through teachings and interactions with professionals and locals, I am very grateful. It is my clear impression - as a friend once told me - if you give a little of yourself, you get so much in return. It goes for almost every aspect in life, but in particular, it really goes for life in China,' said Mathias Klarlund.
Click on the gallery below to see more photos from the celebration.