The value of internship
26 October 2021
'Amid the global biodiversity crisis, China can lead with alternative meat.' This was one of October's headlines in the South China Morning Post. Behind the opinion piece were SDC graduate Aurélie Chane-Yook and SDC PhD student Mathias Lund Larsen.

Aurélie Chane-Yook has studied Public Management and Social Development, and as part of the education, she interned at the International Institute of Green Finance (IIGF), which is where she met Mathias Lund Larsen.

Mathias was Director of International Cooperation at IIGF, and he reached out to Aurélie in the beginning of her internship, as he knew she did research on biodiversity finance. While climate finance might be the most well-known green finance, more people have started to talk about biodiversity finance.

'It can be quite complex to evaluate biodiversity finance. When it comes to climate, the changes often affect countries to the same degree, but if the population of fish species decline in one country, it might not affect other countries. It can be difficult to define common goals, and there is a gap in the research of biodiversity finance. Therefore we decided to try answering some of the questions surrounding biodiversity finance and write about our findings,' says Aurélie.

Mathias and Aurélie have moved on from their positions as director and intern at the IIGF, but they still work on joint scientific research articles. Their opinion piece, about the best way to finance the solution to the global biodiversity crisis, hit the newspaper in October. Just when the UN Biodiversity Conference was held in Kunming, China and several countries agreed on directing more of their climate budget to protecting biodiversity.


Interests combined in the internship
Today, Aurélie has landed a job at the French Biodiversity Agency. Here she works on local and regional biodiversity conservation and international sustainable development.

'I believe I obtained the job because of my internship at the IIGF, where I specialized in biodiversity finance issues and international interests. I also got the chance to do my master's thesis in collaboration with the IIGF and combine my interest in China's economic development and sustainable development,' says Aurélie who graduated in the summer of 2021.

The focus of the internship was on green finance tools and how the Belt and Road Initiative can be greener, but Aurélie was affiliated to several research projects with teams of international and Chinese researchers.

'At the Public Mangement and Social Development programme, we focused on international collaborations, but also on ways to link public and private interests. In green finance we respond to all these goals, so the internship linked perfectly to my studies,' says Aurélie.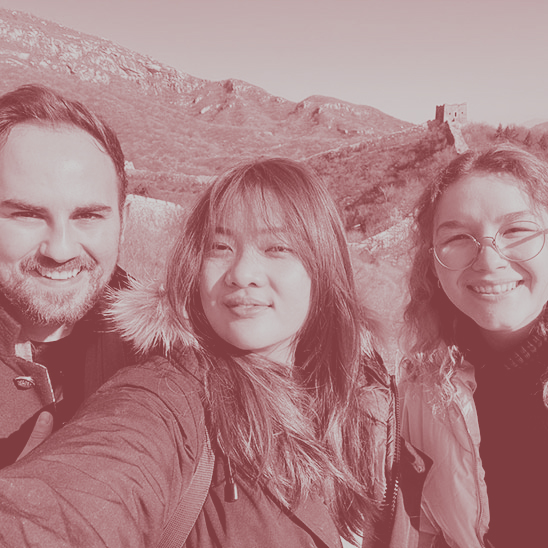 The double perspective is a competitive edge
Mathias emphasizes a certain quality in the students from the Public Management and Social Development programme.
'They have a sincere interest in China, and they understand both the Chinese and the global perspective. The easiest is to work with one perspective, but the most valuable is when you are able to understand and work with both, and that is what Aurélie is capable of,' says Mathias.
He also sees it as his own competitive edge that he has China and international experience.
'China is highly relevant within green transformation of economy and society, and I have the opportunity to contribute to the existing global literature as I can combine it with the Chinese perspective,' he says.