Successful PhD students are the best ambassadors
16 January 2019
A meeting in person was absolutely pivotal for Henrik Birkedal, when he decided to invite PhD student, Yaqing Chen, to be a part of his research group at iNANO at Aarhus University.

25-year-old PhD student Yaqing Chen joined Associate Professor Henrik Birkedal's nanoscience research group at iNANO at Aarhus University in August. Here she will be working with underwater adhesives.

The personal meeting was key
While doing her Master's degree in Nanoscience and Technology at SDC, Yaqing visited Aarhus University as part of the programme and on that occasion met with Associate Professor Henrik Birkedal.

At the time, she was working on her master's thesis and had read some Henrik's papers on some of the chemistry that they had done in his group, so she reached out to him and set up a meeting.

"We got the opportunity to meet and talk about the work we do in the group. I could tell she was very talented and interested, so we decided try to find a way to have her join the group as a PhD student. The fact that we had a personal meeting was key in that decision," explains Henrik Birkedal.

Subsequently, they applied to the Chinese Scholarship Council and Yaqing received funding for a full PhD in Denmark.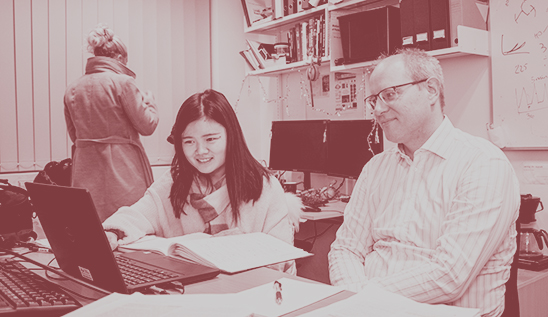 Every Monday morning Henrik and Yaqing discuss the recent research progress
Making better adhesives

Henrik Birkedal's research group works with how they can create new biological and bioinspired materials. For instance, they are looking into the processes that let the common mussel attach itself to almost anything under water.

The focus of Yaqing Chen's project is developing a new adhesive that can glue wet materials, such as the inside of the human body, together, potentially replacing or making sutures in medicine more effective.

"I am very interested in human health and medical care, so I liked Henrik's research, which also relates well to my previous work with nanocomposite and nanocarbon materials. Sometimes experiments can be boring, but what makes biology exciting is the application. If my material is successful, you can apply it to the human body and let it self-heal. That is cool," says Yaqing.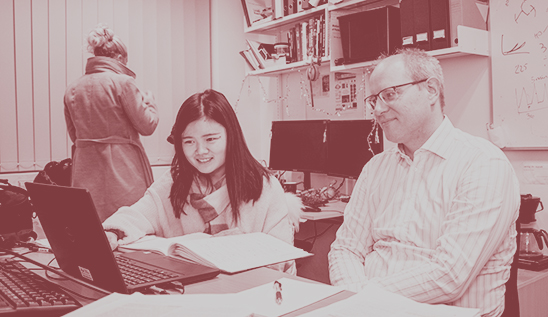 Every Monday morning Henrik and Yaqing discuss the recent research progress
Building bridges between researchers

Yaqing Chen has been in Denmark since August 2018 and will be there for the full three years of the PhD. During that time she wants to learn as much as possible.

"International experience is beneficial for your future career. It broadens your horizon, you build up relationships with other groups, who are good resources, and you learn new techniques that China maybe doesn't have. Other than that, there are all the colourful experiences you get by being in a foreign country. You travel a lot, you meet different people, talk and learn from them and you learn about history and culture. Finally, China is very welcoming to people who come home after having been abroad," says Yaqing.

Henrik Birkedal too sees a lot of benefits to taking in someone like Yaqing Chen. He first and foremost wants to support her development and help her become a successful scientist, he explains.

"The foreign PhD students that come to Denmark and have a positive experience are the best ambassadors you could want, because they will typically take up management positions within research, education or administration in their home countries. So much of the cooperation that is established is done so through personal relations, which is why having someone like Yaqing here is priceless," says Henrik Birkedal.
Cooperating with Chinese researchers

Henrik Birkedal has worked with material science for 15 years and he has witnessed the rapid rise of Chinese research groups within the field, making attractive cooperating partners.

"The main reason why cooperating with Chinese research groups is that they are incredibly accomplished. Particularly in China there the developments within material science has been amazing. They decided that this was an area that they wanted to excel at and now they do. At the end of the day you want to cooperate with the best of the business and that is why they are interesting," says Henrik Birkedal.

Chinese Scholarship Council
The China Scholarship Council (CSC) is a non-profit institution affiliated with the Chinese Ministry of Education. The CSC is responsible for the organization, management and provision of financial resources to Chinese citizens studying abroad and to international students and scholars studying in China, with the goal of developing exchanges between China and other countries in the fields of education, science and technology.