Student dives deep in sponge city
29 September 2015
Water and Environment student, Casper Eskild, has collected water samples for his Master's thesis since spring with the purpose of finding out, if the sustainable drainage system, he is monitoring in Tianjin, is suitable as a pioneer project for future urban planning

Massive rainfall and subsequent flooding, caused by global climate changes, have become an ever increasing problem in urban areas all over the world. Insufficient sewer systems in cities made largely of hard surfaces like asphalt have occasionally not been able to absorb extreme rainfall, which in turn has created floods in the streets. North East China, for instance, suffered a massive flood in 2012, which resulted in dozens of human casualties, destruction of thousands of homes and incredibly expensive reconstruction worth billions of RMB.

In order to find ways of coping with massive amounts of stormwater, a number of large Chinese cities have been selected as pilot cities that are continually developed with the purpose of being able to recycle and reuse excessive stormwater. Among them are well-known cities like Wuhan, Chongqing and Tianjin.


China's sponge cities
Tianjin Cultural Park in the city of Tianjin is an example of an urban development initiative in one of China's sponge cities. The park area is one square kilometre, and the lake in the middle, which is linked to numerous drains, cleansing instalments and pumps, takes up approximately a tenth of that space. The park area also serves as a possible recreational area for Tianjin's 10 million inhabitants, explains Casper Eskild, who is excited by the mere scale of the project.

"I am very interested in urban planning, so it is a great opportunity to be able to work with a huge project that focuses on sustainable solutions to the massive water issues that China faces. Redeveloping the park only cost about a third of the 200 million RMB it would cost to redevelop the sewer systems, and on top of that you get a unique patch of nature with the ability to purify water in a natural way in the middle of a big city."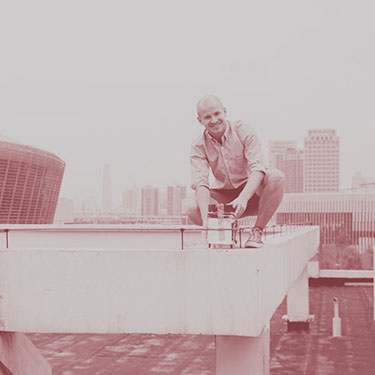 In his Master's thesis, Casper Eskild aims to learn as much from the construction of Tianjin Cultural Park as possible and tries to find out if the hydrological system can live up to the theoretical performance in practice.
Researching in China
By gathering samples from different parts of the system, for instance pure rainwater from the top of buildings in the area, immediately before the water enters the cleansing system or from the lake, Casper will be able to evaluate on how efficient the cleansing system is. This is done by submitting the results into a state of the art dynamic rainfall-runoff simulation computer system called MIKE URBAN.

In order to get useful samples, he has had to place his passive sampling devices, so-called SorbiCells, on adjacent roof tops, in and around the lake. Therefore, he has had to negotiate with local officials and staff in order to get permission, explains Casper.


"Getting permission to gather information can be difficult, but fortunately my close cooperation with Rambøll, where I have done an internship, has played an important part in allowing me access to the site. Once at the site I have met a Chinese girl called Luoxi, who studies at UCAS and also works on a project in the area. So we have been able to help each other and also have some great professional discussions about our projects."

Now the Water and Environment student has made his last trip to Tianjin and gathered his final water samples ahead of substantial analysis in the laboratory, before handing in his thesis in November.