SDC hosts Corporate Innovation Day 2018
13 December 2018
The Innovation Management Programme of SDC in collaboration with the Innovation Center Denmark recently hosted a two-day set of activities in the field of innovation and entrepreneurship organized for managers, researchers and students.

This year's Corporate Innovation Day was devoted to exploring how Chinese and international companies take advantage of co-creation, user-centricity and digitalization in China.

Showcasing the latest research
Dmitrij Slepniov, Associate Professor at Aalborg University and co-host of the event, explains that having a diverse group of participants is necessary for a productive discussion and a useful outcome, that academia and the businesses need each other to move forward.

"Without a good reality check from practitioners, the academia is in danger of becoming naive or even irrelevant. On the other hand, practice without theory may become blind and misguided. The innovation days event is a first in a series of similar events that will help us to engage with our industrial partners, to showcase the latest research and to capture the most current innovation practice trends."

The two-day event consisted of open academic lectures by university professors and presentations by company managers followed by panel discussions, who engaged in dialogue with the presenters and the audience.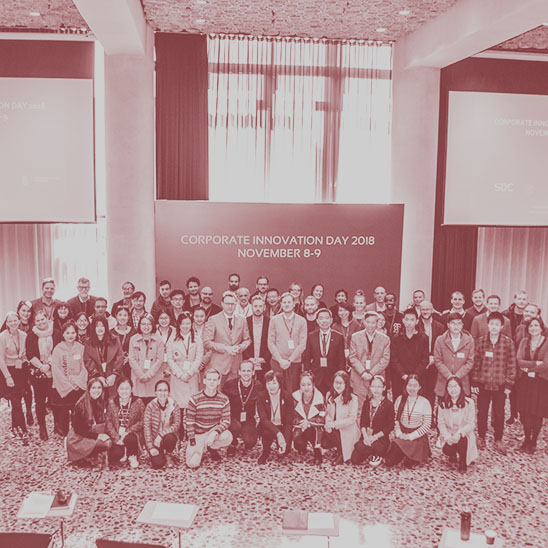 Among the presenters were John Ulhøi, Professor from Aarhus University, Martin Barnes, a TEDx speaker and the founder of creative studio Mountains of Imagination in Beijing, Allan Chou, founder of RADICAL Fund, Bruno Keonnel, Senior manager of Research and Development Department at Daimler China, Xue Yan, Director of Operations of Didi Development Research Institute, Peter Lee, Head of the International Cooperation Department of Orient Sundar Group-Windoor and John Liu, CTO of Guoshuang Technology.

A pool of inspiration for students, managers and researchers
As Dmitrij Slepniov evaluates on the two days transpired, he is very happy with the support and dedication the event received and hopes that the participants learned a lot.
"We tried to make sure that this event offered something for all participants to take home. The academics got insights into the latest developments in the world of open innovation and digitalization in China. Managers heard about how the theory sees these trends and their development in the future. We also opened this event for the SDC students, who I hope got new ideas for their projects and had a chance to network and establish connections for their internships."

With November's successful Corporate Innovation Day 2018 in the bag, Dmitrij Slepniov now looks forward to hosting more similar events at SDC going forward.

Take a look in the gallery below to learn more about the speakers and topics of the event.