Researching motor planning
07 June 2017
The moment Signe Kirk Fruekilde visited the Institute of Neuroscience (ION) in Shanghai, she knew this was where she wanted to go deeper into the brain on her Master's thesis.

When looking for an interesting project for her thesis, Neuroscience and Neuroimaging student, Signe Kirk Fruekilde, became aware that a former SDC student had worked on his thesis at ION with great success, so she decided to visit the lab for a week in May 2016.

"At first glance, I was sure that this was the lab I wanted to work at. The setup and research being done there is unique, and several of the scientists, including my supervisor, Principal Investigator Ning Long Xu, have spent years in the USA, and have therefore integrated international research traditions at the institute," explains Signe.

Although there are no other foreigners at the lab, Signe feels very welcome, in part because the group meetings she participates in are all held in English for her benefit.

In the day-to-day work, Signe works with a Chinese post.doc called Chunyu Duan, who also designed the paradigm they both use for their research. Chun Yu has lived in the USA for ten years, which is very helpful, explains Signe.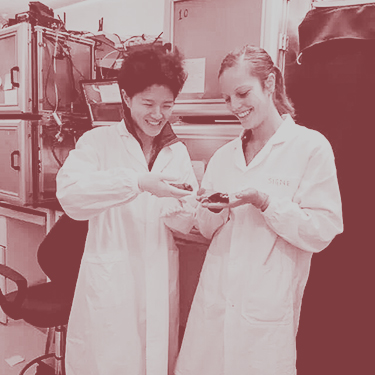 Understanding how it is all connected
Chun Yu and Signe work with motor planning in mice. Motor planning is the ability to observe and understand a given task, planning out an action in response to the task, and to help guide the act of carrying out the task correctly. ION technicians have designed the lab setup and there is nothing like it anywhere else in the world.

"In a healthy human being motor planning is not an issue, because it just works. In people who are brain damaged or have suffered injuries, however, it is very relevant to understand how it is all connected, so you potentially can help the healing process or make life easier for people suffering from disabilities," says Signe.

In practice Signe trains mice to lick one of two water taps up to two seconds after hearing a specific sound stimulus. Meanwhile she monitors what interactions go on between certain parts and projections in the brain called the auditory cortex, motor cortex, secondary motor cortex and superior colliculus. These are interactions that are relatively blank and not much is known about them.
"I have learned so, so much…"
Signe is due to hand in her thesis on 15 June 2017, and after doing that, she would like to take on a position as a PhD student, which she believes her experiences in Shanghai have prepared her for.

"I have learned so, so much over the last four months and had the opportunity to explore a lot of things, so I am very happy to have been here. Having gained these experiences I feel well prepared for what comes after my Master's degree. I believe that going abroad to study gives you a lot of life experience. Standing on your own feet in a Chinese lab and finding solutions to issues that you can't see your way out of is a unique thing. It enables you to tackle unexpected challenges going forward," says Signe.
Training mice
Signe Kirk Fruekilde has spent many of her days training mice in using their memories to perform tasks based on sound stimuli at the Institute of Neuroscience (ION) in Shanghai. She can train eight mice at a time, and training each mouse to perform the required task takes a couple of months. Some mice never learn how.

"It can be quite frustrating when the mice don't understand what I want them to do, but when it succeeds it is a really good day," says Signe.
A preference for neuroscience
"I am a molecular biologist and the engineering approach doesn't interest me much, so working with neuroscience was quite obvious for me. However, I am glad to have taken the courses in neuroimaging, because it gives me a better understanding of neuroscience as a whole and of how you can explore neuroscience using neuroimaging."