PhD Student had to Interrupt Research Stay in Beijing
18 May 2020
Danni Peng-Li is born and raised in Denmark by Chinese parents. He has studied Neuroscience and Neuroimaging at SDC where he got a double Master's degree from Aarhus University and University of Chinese Academy of Sciences (UCAS) in Beijing, in 2018.

He is now a PhD student at Aarhus University, Department of Food Science, where he is doing research in consumer behavior. With brain scans and physiological measurements he investigates how music affects our sensory and cognitive drivers of what we choose to eat, for example at a restaurant or at the supermarket.


Rapid Pandemic Alert
During Danni Peng-Li's PhD study, he has planned to spend one year in China to collect data and teach Master's degree students at SDC's Food and Health programme. However, the corona pandemic has forced him to interrupt his stay in China and prepare himself to be delayed with his research.

When the corona virus started peaking by the end of January, Danni Peng-Li was together with his mother and Korean girlfriend in Changsha, Hunan province, to celebrate the Chinese new year with their Chinese family.

'We all felt that the atmosphere around New Year's was affected by the corona virus. During the holidays, you spend a lot of time home with your family. But you also see people on the streets and doing shopping. While I was in Changsa, the stores were still open but unfortunately, there were no people in them. Events were also cancelled and my Chinese family were worried, so the spirit was definitely different this year,' says Danni Peng-Li.

'On a map of the spread of corona virus the Hunan province was completely white when we went there. It means that there were no infected people registered. But when my girlfriend and I left the province a week later the numbers had got worse,' Danni Peng-Li explains.

'When I returned to Beijing after a week in South Korea, I saw the airport and the entire city had readjusted to the highest pandemic alert. That was in the beginning of February. My supervisor at Aarhus University said that I should get back to Denmark as quick as possible. But all my technical equipment was at UCAS' campus in Beijing which was shot down because of the virus. Fortunately, they allowed me to pick up my computer and eye tracker, that is essential in my research here in Denmark', Danni Peng-Li explains.

Institutions and restaurant were among the things the government shot down in Beijing, and people had their temperatures checked by authorities in public places and in apartment complexes.

'In my apartment complex I had to be able to prove that I lived there before I could be allowed inside. If I left my apartment, I had to have papers on me that could prove it. My mom also decided to travel back to Denmark before she had scheduled because SAS shot down their flights, and hotels were closing as well. But I had to stay in Beijing for 10 days after I got back from South Korea because I needed to take care of formalities about my passport and get my equipment from UCAS,' says Danni Peng-Li who also spent the days working from home.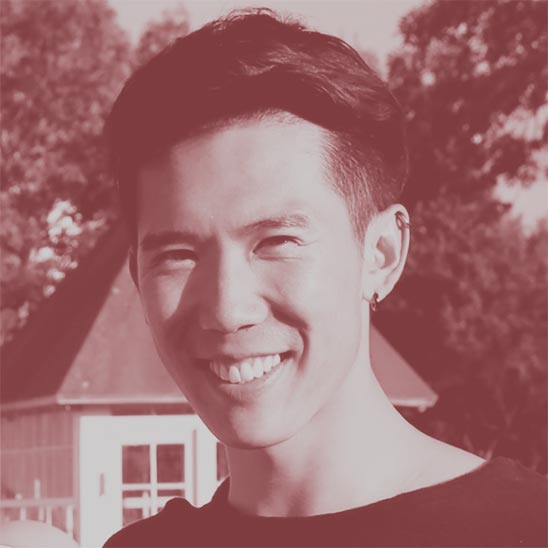 Depending on the re-opening of restaurants and universities
Since the end of February, Danni Peng-Li has been in Denmark even though he currently was supposed to collect data in Beijing and not return to Aarhus University before April.
'In Beijing I was arranging to carry out a consumer research in February and March at a café and restaurant chain called Moka Bros. Working from the hypothesis that a high level of stress makes us more likely to make unhealthy food choices, I am investigating if high-volume and high-tempo music boosts the sale of unhealthy food. Now I hope to be able to carry out the research in the summer 2021, instead,' Danni Peng-Li says and crosses his fingers that he get exemption to return to Aarhus University before 3rd face of the re-opening June 8. In that case, the time schedule for his eye tracking experiment will last.
'I hope the university allows me to go back during May, or else I have to prepare to be late with my PhD project. So now my PhD studies mostly depend on the situation here in Denmark,' Danni Peng-Li says.
If everything is sticking to the plan, Danni Peng-Li will go back to Beijing in the fall and finish his PhD study in December 2021.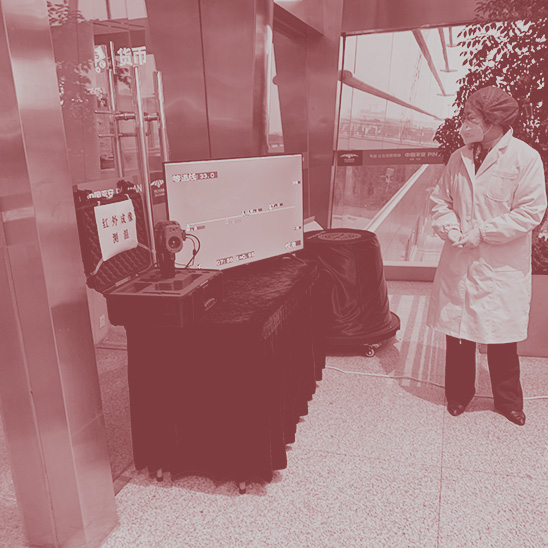 People had their temperatures checked in the airport.
Danes are less cautious about pandemic alert
Even though Beijing seemed like a city with curfew with no cars, deserted streets and a metro empty for people, it was not the case:

'I went for a run a few times which was not illegal but people were looking strange at me. My experience is that Chinese take the precautions more serious than Danes do. In Beijing, people only went out for groceries and never for pleasure. In Denmark, people hurry out to gather as soon as the sun shines. I have also talked with some Chinese in Denmark who do not understand that people gather by the lakes in Copenhagen, and that Danish authorities do not recommend wearing masks. There is definitely a cultural aspect in the tradition for wearing masks,' Danni Peng-Li says.

When Danni Peng-Li was together with his family in Changsa, it was also obvious to him that they took the situation more serious than he did:
'They were very worried from the beginning and had already hoarded masks before my girlfriend and I got there. My father was in China during the virus as well but in another province, and he could not get any mask so I brought 300 for him from South Korea,' Danni Peng-Li says.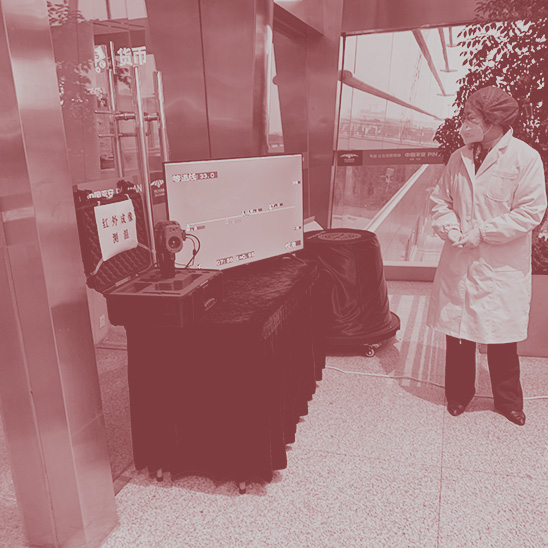 People had their temperatures checked in the airport.