Off to a great start
16 February 2016
SDC graduate Freya Hvass has found the perfect place for her professional career to get off to a good start. For the next two years she will be putting everything she has learned so far in China to good use as General Manager at the Danish Chamber of Commerce in China (DCCC) in Beijing

"I expect to be involved in many aspects of our events, whether it is overall planning, deciding what speakers should talk about or ordering sandwiches. I see my job as an opportunity to get hands on experience that will be of value to me later in my career, too," says Freya Hvass about her new responsibilities at DCCC.

The DCCC provides some of the largest Danish corporations that operate in China with opportunities to participate in workshops, networking and social events that can help them thrive in a Chinese context.

After having been only a few weeks at her new office, Freya Hvass is focusing on getting to know the companies DCCC works with. Understanding what challenges they face and what they think about their presence in China is important to her success. Soon, however, she will be part of the team planning and holding spring events, such as the spring ball.


"Sometimes you have start building the house to see if the foundation will hold"
In order to be successful at her new job Freya Hvass has to rely on what she has learned and experienced during the last two years studying her Master's Degree in Public Management & Social Development at Sino-Danish Center (SDC).

Studying alongside Chinese classmates and working in groups of both Danish and Chinese students was not always easy, but it has helped prepare her for the challenges that await in the imminent future.

"In the beginning the differences between Chinese and Danish students are obvious. The Chinese students don't say much in class whereas the Danish students want to have a discussion about everything."
During a semester project Freya's group spent about two entire days discussing what their problem statement should be, until finally the Chinese group members ran out of patience and said they should just make a decision and get started.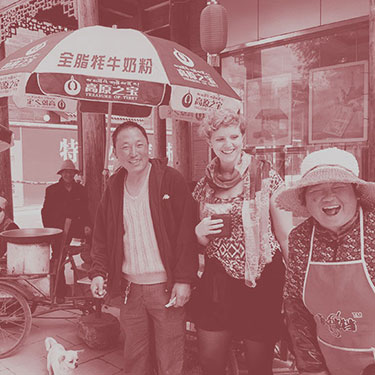 "One thing I have learned is that sometimes you have to start building the house to see if the foundation will hold," says Freya Hvass.
"I think the fact that we were forced to work closely together helped us to get closer to each other and understand that we are used to communicating in very different ways. I think this knowledge has made me a more open person and made me capable of working together with all sorts of people in the future."
Freya Hvass currently doesn't know how long she will be in China for, but is excited about the challenges she will face in the next two years at the Danish Chamber of Commerce in China.