New head of the MSc in Water and Environment
14 August 2019
Associate Professor Kristian Koefoed Brandt from the Department of Plant and Environmental Sciences at the University of Copenhagen is the new Head of the Water and Environment Master's degree programme at SDC.
Kristian Koefoed Brandt has spent a part of his academic career doing research in Asia, including countries such as Vietnam, the Philippines, Bangladesh and China. Over the past seven years, he has established tight collaborations with elite researchers belonging to the Chinese Academy of Sciences to conduct research on microbe-pollutant interactions and the environmental dimension of antibiotic resistance. These collaborations have to a large extent been catalysed by SDC related activities.
He now looks forward to immersing himself even deeper into the China-Denmark collaboration and impacting on the future development of the programme.
"I accepted the position, because it felt like a natural step for me. My own research field is closely linked to the Master's degree programme and I already have well established research projects and contacts in China that we can draw upon."
Ensuring progression
As one of his first tasks, Kristian and a couple of colleagues will go to China in the last week of August to run the introduction for the new group of Water and Environment students.
"Once we are past the intro week, I will be busy learning about the exact content of modules and courses to ensure that the overall progression and transitions between modules in the programme will be transparent to both the students and all the lecturers. As part of this process it is also very important that I get to know the teachers that are involved and that I get to know the SDC organisation, administration and family."
On 1 July, Kristian Koefoed Brandt took over from Associate Professor Fulai Liu from the Department of Plant and Environmental Sciences at the University of Copenhagen.
View Kristian Koefoed Brandt's profile on ku.dk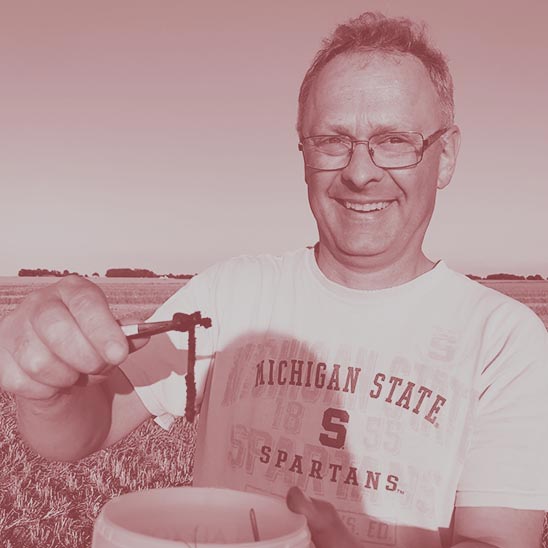 Photo: Kristian Koefoed Brandt doing field work in Gyllingnæs (in Jutland, Denmark) as part of the EU project SoildiverAgro, which deals with functional biodiversity in farm land. New DNA chip technology developed at the Chinese Academy of Sciences is used for the project.