New head of Public Management and Social Development appointed
10 February 2017
At the turn of the year, Associate Professor, Duncan Wigan, from CBS, took up the position as Head of Educational Programme for Public Management and Social Development at SDC

Duncan Wigan takes over the role from his colleague Associate Professor, Antje Vetterlein, who has run the programme since the first cohort of students were accepted in 2012.

"I come into a programme that is running very well and the initial teething problems that are inevitable when you start such an ambitious project seem to have been ironed out. We have staff that are world-class, who are committed, and come back to SDC and the programme year after year - so in many ways I am looking at a programme that is in very good shape already. I think my job is to ensure that this doesn't change, or more precisely that it only changes positively," says Duncan Wigan.

Among his aims for the coming years are bringing the educational experience closer to the real world the students are going to enter when they have finished their studies, bringing more companies and public sector bodies into the programme, and bringing students increasingly and more frequently to them in the form of internships and other kinds of collaborations.

Besides that, Duncan Wigan, who has a background in International Political Economy, would like to - and has already begun to bring in a stronger political economy component to the programme. The idea is supported by the students he has spoken to, as well as Chinese academics who are very enthusiastic about it.


An exciting time and challenge
Duncan Wigan has been interested in China for a decade. As an undergraduate he studied and travelled in China, and since he has visited the country and SDC several times, further sparking his interest and giving him the opportunity to become familiar with the setup and the people involved in SDC.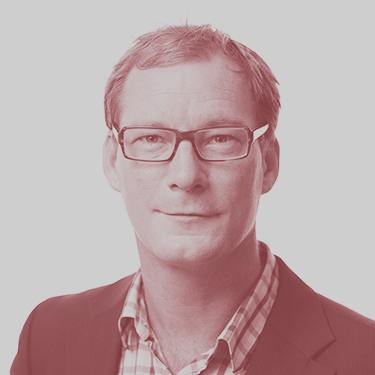 "China is currently the most dynamic and fast changing country in the world – and that process shows no signs of stopping. So, to be engaged with China at this stage of its continuing transition from the communist era is an extraordinary opportunity and to be engaging in a society that is changing so dynamically and quickly is absolutely fascinating both from an academic, social and cultural perspective.
I think SDC, as an institutional project, is incredibly exciting. The fact that we are the first institution to do a truly integrated project at this level is extraordinary. We are in the top league internationally and I know that the Chinese state is taking SDC as a model on which they wish to base their future collaborations with foreign universities."
The first tasks
The first tasks Duncan Wigan will be taking on are to make sure that he is fully on top of how the organisation works and how the student experience unfolds over a two-year period.

So far he has five trips to China in his 2017 calendar, the first of which is in April, where he will be going to Beijing to be with the students in the middle of the term to make sure that everything is running smoothly, as well as setting up auxiliary activities around the courses, such as reading groups and seminars.