Network and persistence paved his way to the wind industry
25 August 2016
Alexander Gamborg started his new job at Siemens Wind Power in February – four months before he handed in his master's thesis in Innovation Management

It is not a coincidence that 26-year-old Alexander Gamborg landed a job as Business Development Manager before he even started his master's thesis. Parallel to his studies he spent time networking and exploring the many opportunities in the expat community in Beijing.


Beijing Vikings started it all
Alexander started, together with a couple of his fellow students, playing football with the Beijing Vikings, a Danish football club in Beijing, where Scandinavians and other nationalities meet to play football and have fun. Some of the new friends from the Beijing Vikings also invited Alexander to become a part of their local Danish Golf team. Alexander describes the football club and the Danish Chamber of Commerce in China as some of the best settings for getting introduced to living, working and enjoying life in Beijing.

"Each of my fellow students spends their time in Beijing very differently. A couple of us enjoyed playing football and saw the opportunity to join the Beijing Vikings as a gateway to fun weekend activities, new friends and insights to the professional expat community. Living in Beijing naturally surrounds you with many great opportunities. However, many fail to interact with the people who can present one to these opportunities. Furthermore, you have to make it clear to the people around you that you are driven and committed to starting a career in China. The network I became a part of gave me a foot in the door and a chance to pursue my dream of establishing a career in China," says Alexander.

Many of the football players are experienced business people. They were able to share experiences and career paths with Alexander who eagerly asked questions to further explore and understand what he could expect from a career and life in China. His network noticed his interest and drive, and it was through his network he got introduced to Siemens who invited him to an interview. Three interviews later he signed the contract.


A 10-year-old dream came true
As a Business Development Manager in Siemens Wind Power, Asia Pacific, Alexander's role is to conduct market and competitor analyses and provide conclusions how to set steps for increased competitiveness in Asia Pacific i.e. China, Australia, Japan etc. To do this he needs to stay updated on current and potential customers, the macro-economic and macro-political environment in each country and the competitors.

When he got the job, a 10-year-old dream of working in Asia also came true. Since he was a teenager he knew he wanted to become an officer in the Danish Army and afterwards pursue a business career in Asia.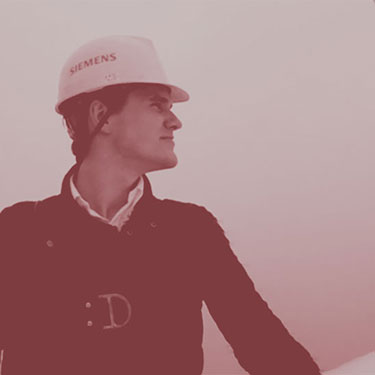 He had already ticked off becoming an officer, something he did parallel to doing his bachelor's degree, and in February he began his professional career in Shanghai.
Job and market with huge potential
The global wind energy industry had a record year in 2015, with 62 gigawatt installed, led by China, which installed just under 29 gigawatt. Alexander tells that China and the rest of Asia Pacific is developing rapidly and these markets will increasingly play a larger role in the future both in regards to market opportunities and new competitors.
"I cannot think of a better place to sell renewable energy technology than China and Asia Pacific. Sitting in a meeting you can just ask people to look out of the window, and it becomes obvious to everybody why we need to phase out fossil fueled electricity production and focus on sustainable energy," says Alexander.
In the near future Siemens Wind Power is going to merge with the Spanish wind turbine manufacturer Gamesa, which means that Alexander's future is in a new company with both a Siemens and a Gamesa foundation. Personally he sees the merger as a unique opportunity and he looks very much forward to being a part of a historic industry event in which two of the most prominent global players in the wind power industry will join forces.