Jens and Jeppe run Great Wall Marathon
23 May 2017
"It was hard. It was very hard. The hardest thing I have ever done," says Jens Frandsen after running 42 kilometres up and down the Great Wall of China in searing heat on Saturday's annual Great Wall Marathon.

A towering, blond young man pacing through the streets of Beijing has been a familiar sight over the last couple of months. Running between 7 and 27 kilometres a couple of times every week has been a significant part of Jens Frandsen's routine for a while now, as he has been preparing for running the Great Wall Marathon 2017 near Beijing.

Finally, on Saturday, he and fellow SDC student, Jeppe Andersen, took up the challenge and came out on the other side 6 hours and 33 minutes later, shattered, victorious and happy with their result.

Moving forward
"Honestly, we were surprised that we got through it, because it was so exhausting. It was all about willpower. After running up the steep hills onto the Great Wall and then down again for a while it was impossible to think, and it was all about continuing to move forward," explains Jens.

Being in China gave the two students the unique opportunity to complete the challenge, and they now have a great story and a experience for life, explains Jens.

"The best part of the experience was definitely finishing and getting the medal. If you know that you can accomplish this, you can accomplish anything," says Jens.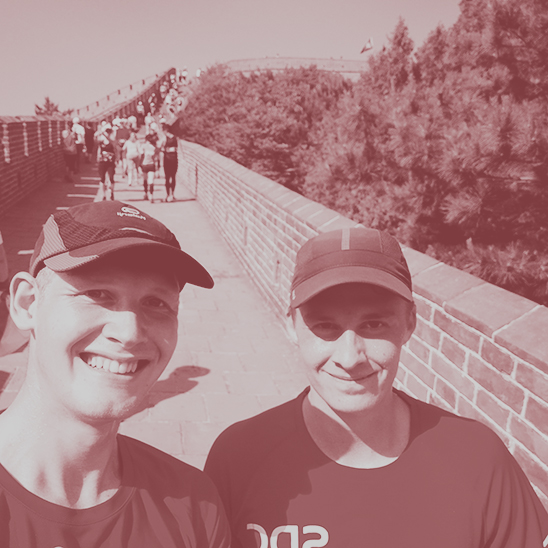 Surprise celebration
Upon reaching the dormitories at the SDC campus, a group of their fellow students had arranged a surprise celebration, with snacks and beers, however the two exhausted athletes of the day soon had to face the final stairways at the dorms and go straight to bed.

Facts:
- The 2017 Great Wall Marathon had more than 2500 participants from over 60 countries.
- The fastest runner finished in 3 hours and 14 minutes.
- The marathon has existed since 1999