Internship week: Promoting Danish environmental solutions in China
24 January 2018
Public Management and Social Development (PMSD) student Kasper Lauge Thomassen has studied a bachelor's degree in China Studies at the University of Copenhagen and is currently interning at the Beijing Municipal Research Institute of Environmental Protection in cooperation with the Ministry of Environment and Food of Denmark in Beijing.

What attracted you to Beijing Municipal Research Institute of Environmental Protection?
First of all, the topic of environmental protection was very appealing to me as this is something that I have been interested in for some time. Secondly, the fact that it is a cooperation between the Danish and the Chinese central governments. How often do you get the chance to work in such close cooperation with the Chinese central authorities? And at the same time also get an insight into government to government work.

How did you get the position?
The Ministry of Environment and Food have had a few interns from SDC before, so someone in the PMSD chat group pointed out that there was an internship position available. I applied for the position and got it after an interview, so that was pretty straight forward.

What do you do there?
We are only three Danes physically in China working on the project, so I am brought into play a lot, which means that my tasks vary a lot.

When I arrived, there was a ready-made description for a project aimed to map out the Chinese waste water market and figure out how to get Danish waste water solutions onto the Chinese market, so I was paired up with a Chinese consultant from COWI and asked to crack on. At the end of the project I will make a presentation that I will be presenting to Danish companies within the field.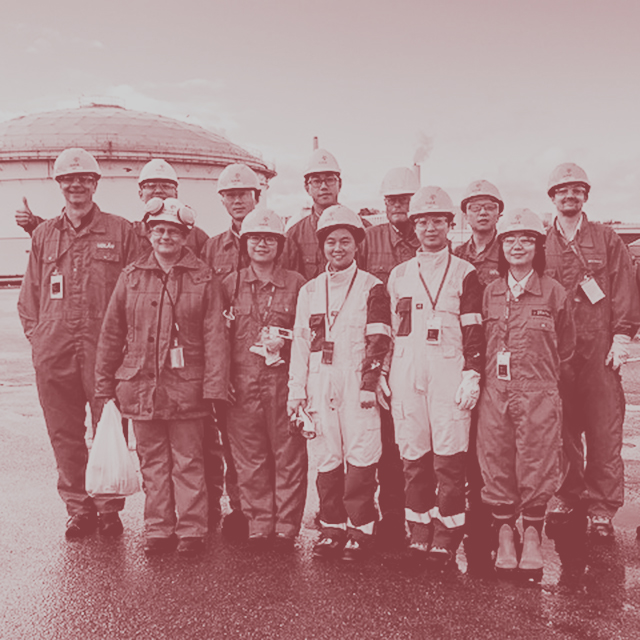 Kasper is the guy in the top right corner. The picture was taken at a Statoil refinery, when Kasper and a Chinese delegation from Beijing and Jiangsu visited Denmark in the fall.
Besides my own project, I assist in event planning and coordinating workshops, including visits of Chinese to Denmark and the visits of Danish companies and people to China. Also, because I have some competences in terms of my Chinese language proficiency, I assist with a bit of translation.

How do you benefit from doing an internship?
I attend and experience what goes on at meetings with business partners and ministries, which gives me an understanding of how you structure a cooperation between Denmark and China in a practical sense.

This also gives me the opportunity to show who I am and talk to some people that I otherwise would never get to meet. Besides the fact that work experience is important when looking for a job, I think the fact that you get to meet some people who might be relevant to your career at some stage. Even though China is huge, there will always be an expat community where many people know each other. Having the opportunity to meet and look people who work at the embassy or in Danish companies in China in the eye is very important.
It is incredibly valuable to have the internship as part of the education, because it adds so much value to get out there and experience how a work place functions and even more importantly to realise that you are very useful.

What are your plans for the future?
I will stay here for six more months and write my thesis with them. The topic will be within environmental protection, but what the exact project will be I have to talk to my boss about, so we can make sure that the output is of use.