Internship Week - Enabling Western start-ups in China
09 February 2018
Innovation Management student Anja Vinding Rank has studied a bachelor's degree in Economics and Business Administration at Aalborg University and spent the autumn semester interning at TechCode, a Chinese incubator and accelerator in Beijing.

Why did you want to intern at TechCode?
I always thought the start-up environment was fascinating, but I hadn't thought about working with start-ups previously, but having studied Innovation Management it seemed like a quite natural step, when I got the opportunity.

How did you get the position?
When it came to the point where we had to make a decision about what to do for the internship I had a few things in mind but ended up asking the head of Innovation Management if he had any ideas and he suggested TechCode. I knew them, because they were one of many companies we visited during the first year. So, we visited them in Beijing and they were like "Great, you can start on Monday!". So, it was a bit random, but I am extremely happy with it and I am sure the way has been paved for more interns at TechCode in the future.

What was it like interning in a Chinese company?
I was the only non-Chinese person at the office, which was quite peculiar at first, where a lot of people seemed to avoid me. It turned out that some of them were not very good at English and they were afraid I would ask them questions they couldn't answer. Many warmed up to me as time went by, and some started having conversations with me. It was interesting to be a part of.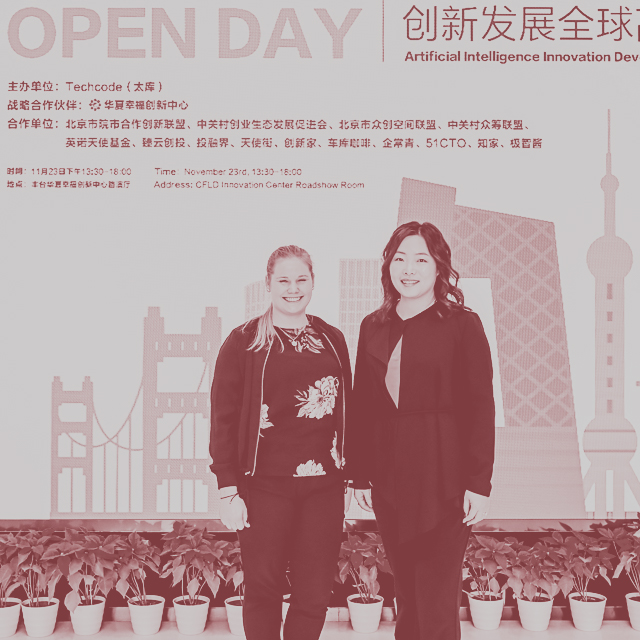 Anja Vinding Rank (on the left) with Techcode CEO Erica Wang at the opening ceremony for the Techcode office in Fengtai
It has been incredibly exciting to get to know Chinese business culture in an international Chinese company. Not an international business located in China, but a truly Chinese company with international operations.

It has been very interesting to feel the cultural differences first hand, and see how I would solve problems differently than my Chinese colleagues. I have learned a lot from them and I have been able to contribute with new ideas.

What did you work with?
So far Techcode have had mostly Chinese customers in China, but part of my job was to help establish an international department and define what roles the team should have. Furthermore, I helped map the international customers' needs and how to best fulfil them.

Therefore, I have communicated with a lot of companies that could be helpful to international start-ups that come to China, for instance with registration and recruitment. Another of my main assignments was to assist when we had visiting international delegations, along with giving tours of our facilities. I have joined several international conferences, where I have networked and represented Techcode. Approaching potential customers to engage with us was really challenging in the beginning for me, but having the responsibility was very exciting, and I quickly learned how to do it.
What did you learn?
The first year studying Innovation Management provided me with a lot of theories, information and strategies, giving me an understanding of how a company functions and innovation can be managed within the company. Doing the internship provided me with the opportunity to really reflect on and use this knowledge in a business environment.

At Techcode, I had the opportunity to meet and connect with so many different people from all over the world and that has been a great way for me to learn so much more about business. I now have connections in major cities worldwide and I am regularly invited to events and conferences by personal relations I have made during the last six months.

What is next for you?
First off, I will write my thesis with Techcode. After graduation, I haven't decided yet, but I will definitely be working in an international company in the future. It is so much more exciting and dynamic to have the world as your work place.