Internship Week: Entrepreneurship in Shanghai
08 February 2018
Innovation Management student Lars Melgaard Algayer has a bachelor's degree in Economics and Business Administration from Aalborg University and recently finished his internship at Brothers Kebab in Shanghai.

Why were you interested in Brothers Kebab?
I am very interested in entrepreneurship and at some point, I want to start my own business, so I needed to get an insight into what it is like to be an entrepreneur, especially in China. As an entrepreneur, you balance between working with day-to-day tasks and keeping the overview and looking ahead, and I thought I could get that at Brothers Kebab. Also, I have seven years of working in the restaurant business, so the position made a lot of sense.

How did you get the position?
I really wanted to try living in Shanghai, so I asked the head of Innovation Management if he had any contacts within entrepreneurship that might be interesting in Shanghai. It turned out he did, and just as I was heading for Shanghai for an extended weekend, he sent the project description from Brothers Kebab, whereupon I reached out to them and got the position.

What did you do there?
There was a readymade project description with a timeline and everything when I started. The point of the project was to create a standardized e-learning manual for managers and staff in Brothers Kebab's restaurants. So, I have worked with all aspects of that process. Collecting the old manuals, mapping existing conduct by interviewing the owners, managers and staff, figuring out how to organise the online information system and finding the programmers that could create the site.
Besides working with the e-learning project I also had a range of ad hoc tasks. For instance, I was trusted with the job of preparing a new restaurant for opening. So, I got to take on some very operational tasks, such as buying chairs and tables in cooperation with the Chinese operation manager.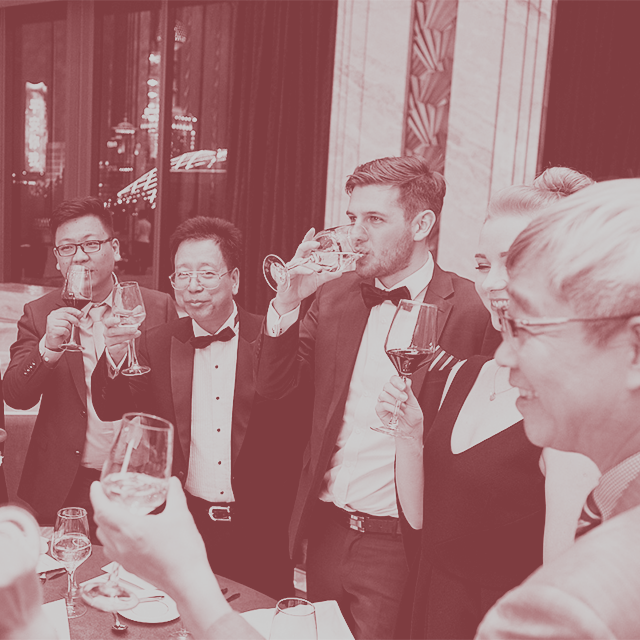 Lars Melgaard Algayer got to meet a lot of interesting people during his internship. At the "Danish Business Person of the Year" galla in Shanghai, Lars was seated alongside a group of Chinese tech investors from Hangzhou.

What did you get out of doing the internship?
Had I not chosen SDC I would not have been able to do an internship as part of my Master's degree and I think the practical experience is extremely important. I now know what it means to work in a business, to go to an office every day and structure my tasks, which is a thing I have been missing. When you start doing something new, you don't know how to act, so this experience will definitely help me going forward.

Brother's Kebab is run by a couple of very experienced guys who have been in China for a long time and who hold important positions in other companies as well. They have established strong networks out here and are willing to go the extra mile to help their friends. That part of the company is one that can help me create a network of my own that may prove useful at some point.

What is next or you?
I'm going to write my thesis in collaboration with the office, as I am hired to establish a new operation in import of Danish fish to Shanghai. The thesis is therefore going to be about the entrepreneurship within food and beverage industry. 
This opportunity is going to define what is going to happen in the future. If the project is a success, I can continue within that company, and if it is a failure and no one in China wants Danish fish, then we will have to shut the project down. Hopefully it is going to be a success so I can stay in China, for at least another year.