Graduation: Ready to take on the future
26 June 2017
"This is definitely not the end. This is just the beginning of life post-SDC, with a different mindset."

SDC graduate Katarzyna Grycel delivered the words at this year's graduation ceremony. She has studied Neuroscience and Neuroimaging and gave the student commencement speech to the 119 graduates.

Katarzyna Grycel referred to the various motivations for choosing to study a SDC Master's programme, and stressed that to some extend all of the graduates had chosen a study programme that was so interesting and unique that there was no other choice but to follow their academic instincts.

"Exposing yourself to a different culture which is in the definition of SDC can be life-changing and I believe it has been for all SDC students… We all have faced challenges, frustration and at times defeat, but they were always passed with positive thinking, personal growth and even more successes."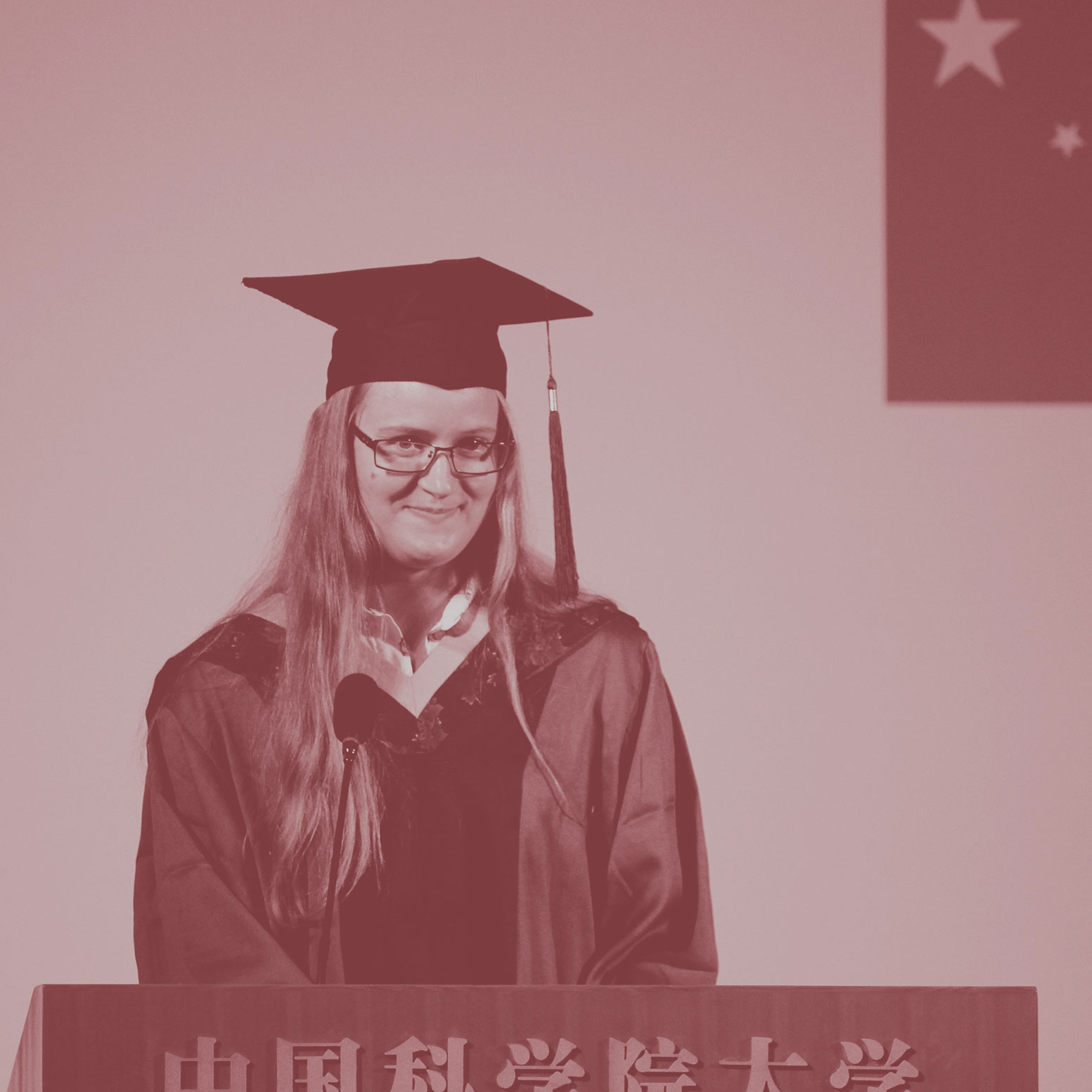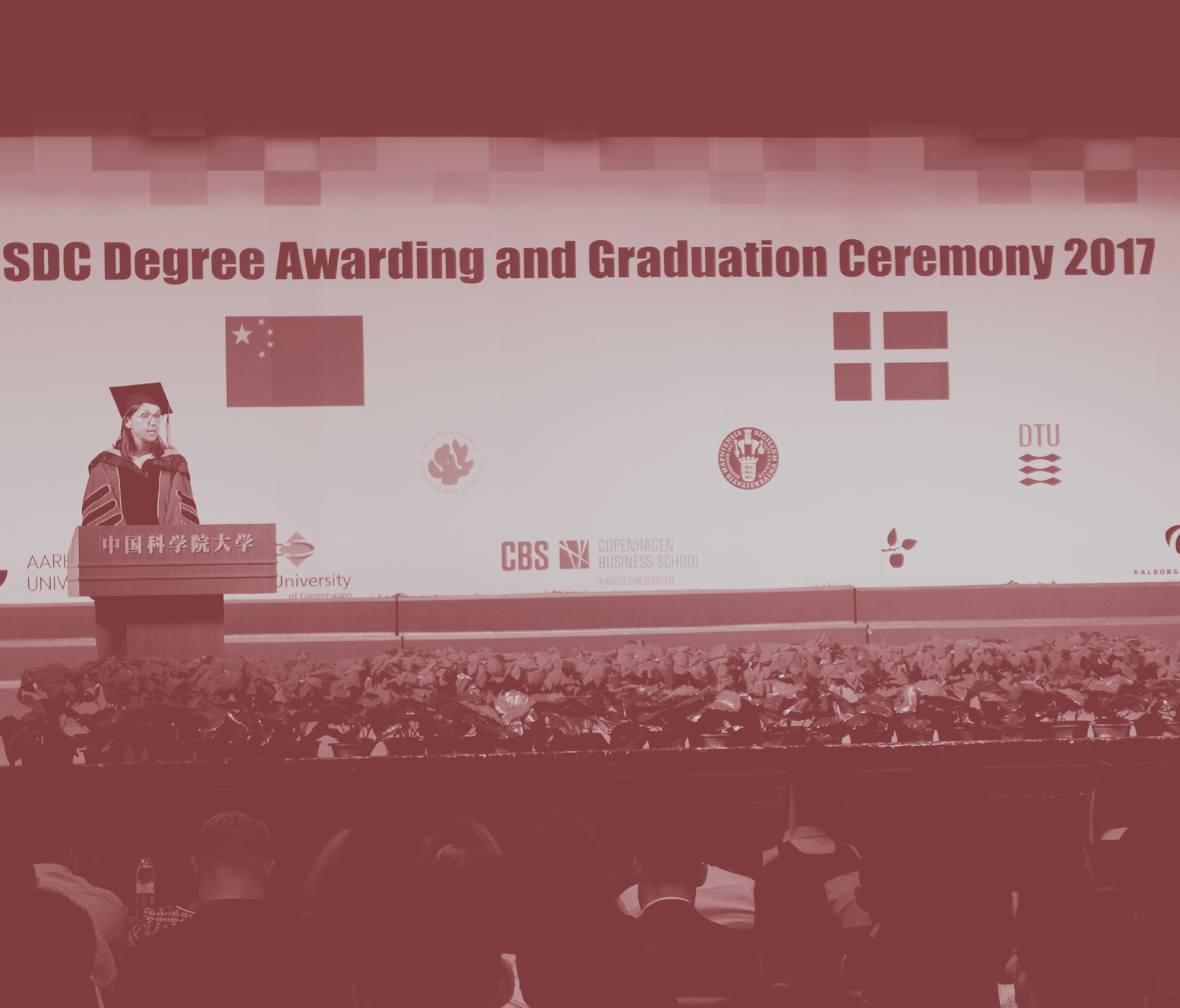 The effort to succeed together
Member of the Danish board of the SDC, Inger Askehave, recognized the SDC spirit she had gained an insight into during meetings with students in the past couple of years.

"I have particularly noticed the sense of community and the effort to succeed together that characterize the particular group of courageous young people," she said.

Inger Askehave encouraged the graduates to stay connected, maintain and expand the network they had built at SDC. Not only the graduates among but also with researchers, businesspeople etc. The graduates were reminded that these networks can be the keys to unlock the door to their professional dream.

"It is always with great pride I encounter SDC alumni in Denmark, China or elsewhere, and I cannot wait to see where and how you, the cohort of 2017, will put your skills and competences to use," Inger Askehave said.

This year's graduates are the last group of students to graduate from UCAS' Zhongguancun Campus, as SDC in September will move to a brand new building at the UCAS' Yanqihu Campus north of Beijing.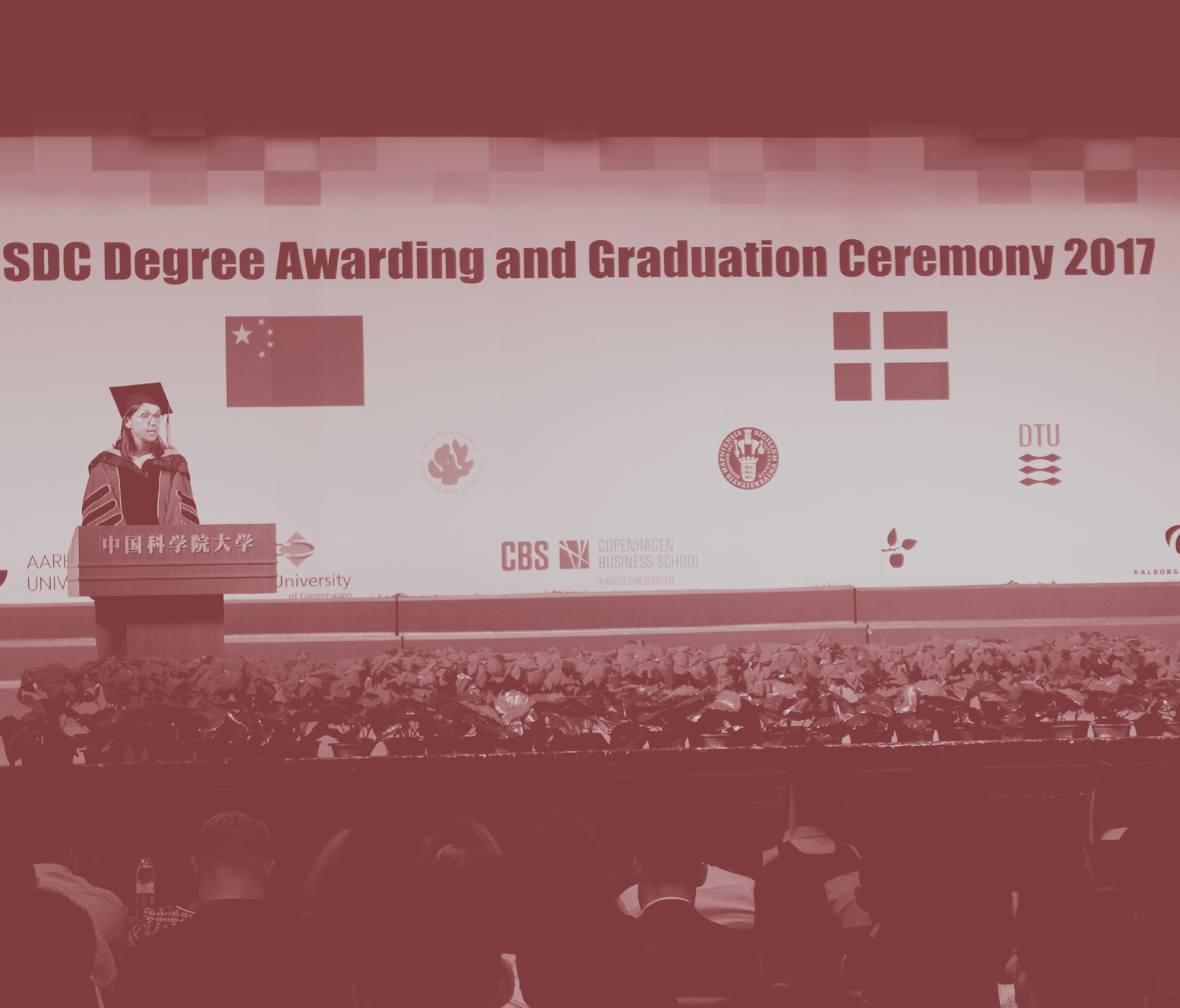 "Your expertise will be in high demand"
"Today is the day you have reached the top of the mountain, and you are now able to enjoy the result of your endeavours," said the Danish Ambassador to China, A. Carsten Damsgaard referring to a famous Chinese saying "Studying is like climbing a mountain".

In his commencement speech he stressed that the comprehensive strategic partnership established in 2008 with the China-Denmark Joint Work Programme recently has been upgraded and enriched. Innovative solutions will be the key driver of future economic growth in China and for generating growth and employment in Denmark.

"With the academic skills and intercultural understanding that you have gained here at SDC, you have expertise to offer in exactly these fields, which will be in high demand by companies," he said.

Congratulations
Joy, excitement, great ambitions and a little bit of sentimentality were in the air when 119 graduates were celebrated at the UCAS' Zhongguancun Campus.