Furnishing the new home of SDC
31 May 2017
At Onecollection in West Jutland they are busy producing, assembling and soon shipping hundreds of chairs, tables, wall units and much more to the new home of SDC.

The building itself, which is designed by Danish architects Lundgaard & Tranberg, will showcase Danish building architecture, design and know-how in China and the inside will do the same for furniture production once it is decorated with items from Onecollection.

Furnishing the SDC building, which will have more than m2 10000 of lecture halls, class rooms, offices, apartments and much more in less than three months has the offices and production facilities at Danish furniture retailer Onecollection buzzing.

The company, which is based in Ringkøbing, was founded in 1989 by Hans Henrik Sørensen and Ivan Hansen, who still own the company today. Since the beginning the company has grown a lot, and they have taken on some extensive contracts along the way.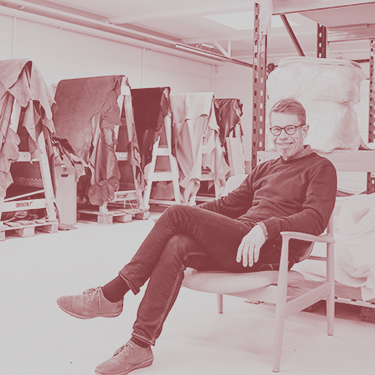 Hans Henrik Sørensen sitting in the "France" chair by Finn Juhl, which can be found in some of the research offices at the new building in Beijing.
Furnishing a complex building
Onecollection have previously worked with a broad spectre of clients and furnished a range of different locations, such as the Finn Juhl chamber at the UN Headquarters in New York. Working with SDC, however, is different explains Hans Henrik Sørensen.

"Working with SDC is different from many of our other projects, because the requirements of the building are so diverse and we have been very involved with the decoration. There are apartments, offices, lounge areas, work stations and lecture halls to furnish, so the order includes a lot of different units and therefore the project requires a lot of focus on logistics," says Hans Henrik Sørensen.
Organic and functional designs at the centre
Core to Onecollection's products are the designs of Finn Juhl, who was a very productive Danish furniture designer from the 1940's and onwards. He died in 1989 and in 2001 Hans Henrik Sørensen and Ivan Hansen were given the exclusive rights to produce his designs by his widow, Hanne Wilhelm Hansen.

"The arts inspired Finn Juhl to combine the organic shapes with the functionalism that was prevalent in the 1940's and created furniture that pleased the human body as well as the eye. However, because his drawings required expensive materials and the most skilful cabinet makers, he was much-criticized at the time for making elitist furniture. It was not until much later that his genius was recognized," says Hans Henrik Sørensen.

Besides Finn Juhl, a range of furniture created by designers Nanna & Jørgen Ditzel, Henrik Tengler, Erla Solveig Óskarsdóttir, Salto & Sigsgaard and Lars Frank Nielsen will be in the new SDC building.
Facts about the building
The SDC building is a complete five story building of m2 10770, and on a daily basis it will be frequented by 200 Master's students, PhD students, teachers and researchers, guests and staff in the:

• 20 apartments for teachers and researchers
• 3 lecture halls
• 10 classrooms
• 10 group rooms
• 10 research offices
• 8 PhD offices
• 4 meeting rooms
• Lounges for students and teachers
• Common areas with study stations
• 4 administration offices
• Gym
• Canteen
• And much more