SDC alumni showcase their research
10 July 2019
Two former SDC students were selected to take part in this year's International Students Research Forum in Denmark. Yujing Wang and Guanshen Cui have both studied the Master's degree programme in Omics and are now pursuing PhD degrees. Recently they and eight other PhD students from the University of Chinese Academy of Sciences seized the opportunity to share their research progress in an international forum.

The Research Forum took place at the University of Southern Denmark, and more than 60 PhD students and other researchers from all over the world attended. The conference covered several topics within neuroscience, cancer and clinical research, public health, and basic and cellular research.


Exchanging ideas across borders
Guanshen Cui gave a presentation about a small modification that has caused a great change – RNA modification during brain development. Yujing Wang gave a presentation about cultivation of human gut microbes and the function of some specific microbes.

"In China PhD students have few opportunities to attend international conferences, and I therefore saw it as a great chance. When you go abroad you really experience how researchers from different nationalities see things from different perspectives", says Yujing Wang.


The future scenario for researchers
Both PhD students agree that the most valuable lesson they brought back to China was learned during the $10 Challenge. The participants were divided into cross-cultural groups and subsequently competed against each other. Each group had to agree on a topic and identify an important health challenge and to come up with an innovative solution with great impact, low cost and technically feasible solutions.

Yujing Wang and Guanshen Cui were both in groups with participants from China, Denmark, Canada, Australia and the USA. Yujing Wang and her $10 group presented the "Seedbuds" program. They focused on gardening as a tool to overcome loneliness among elderly people.




"The competition encapsulates the future scenario for researchers. If I want to be a scientist and I would like my work to impact the world, it is necessary that I am able to work with different people with different backgrounds. If not, I will not be able to put my ideas into practice", says Guanshen Cui.
They both bring back a valuable, international network of upcoming researchers, and they are keen on a career with an international profile.
"A lot depends on how my future research and research funding turns out. I may apply a postdoc position in the US. To be based in the US would give me the best opportunities to publish in high profile journals", says Guanshen Cui.
International Student Research Forum
The first International Student Research Forum took place in 2004 and has been an annual event ever since.
The idea behind the event is to provide an international stage for students to collaborate beyond the boundaries of disciplines and nationalities.
The forum aims to attract the world's upcoming scientists and provides an opportunity for them to showcase their education and research.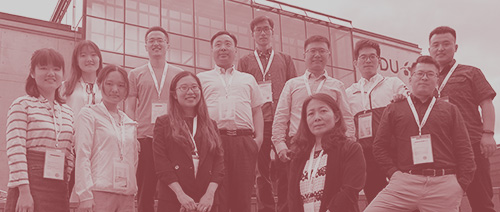 The delegation from the University of Chinese Academy of Sciences.