Danish Minister meets SDC students
21 December 2015
Five students from SDC talked to the Danish Minister for Higher Education and Science, Esben Lunde Larsen, about life in Beijing and studying at SDC. The Minister's visit to SDC was part of his official visit to China, where he also met with his Chinese peers and research environments at companies Arla Foods, Huawei and Novo Nordisk

Christina Bundgaard Mark (first from the left) and Zhang Hao (third from the left), who have studied Public Management since September, were part of the get-together, and they were pleasantly surprised by the relaxed atmosphere.

"The Minister seemed like a nice guy, who was genuinely interested in learning about our experiences in China. He asked about what it is like to study alongside people who are very different to oneself, and he was also curious about what it is like to study a full Master's degree abroad as opposed to a single semester," says Christina Bundgaard Mark.

Zhang Hao felt honored to be invited to the get-together, and he sees the visit as a clear sign that Danish-Chinese cooperation has political priority.

"I was very excited when I first got the message that I would get to meet the minister. I felt very lucky. I think the Danish government attaches great importance to the cooperation between Denmark and China, and therefore SDC too."

Esben Lunde Larsen was particularly impressed by the students' ability to reflect on the consequences of their educational choices.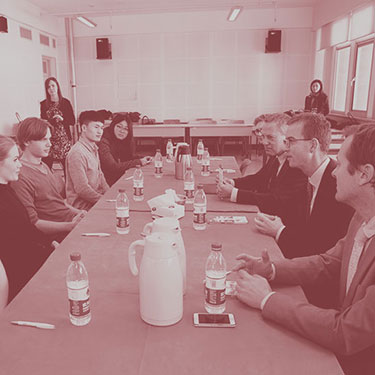 "It is interesting to listen to them talk about why they have chosen to study in China and what they feel they gain from doing so. It is apparent that they have a global orientation and international mindset, and they reflect on being a part of a future global work force," he says.
"They have made a wise and correct decision"
Christina Bundgaard Mark says they also got the opportunity to talk about some of the challenges that come with studying at SDC, like different views on punctuality, varying English proficiency levels and in Christina Bundgaard Mark's case also the test of being 7000 kilometers away from home.

"Sometimes I feel like I am very far away from everything back in Denmark, so this visit feels like my decision to go to China is being appreciated back home. By going to China I am investing in my own future, but somehow Denmark also invests in me, and it is nice to see a follow up like this," explains Christina Bundgaard Mark.


Although there are obvious challenges to studying alongside Chinese students in a foreign country, Esben Lunde Larsen sees many advantages to packing the bags and moving to Beijing for two years.

"The Danish students are getting a unique insight into a different educational system. They make important friends, connections and relations in China, and they get a lot of personal experiences, which helps them grow and get to know themselves as human beings. I think they have made a wise and correct decision by going to China and I can only encourage other young people to do the same."