Building trust, quality and momentum
25 August 2021
More than 40 researchers and PhD students from seven Danish universities met up in Copenhagen to discuss the programmes and research activities. They are all involved with the SDC Social Sciences theme and the affiliated Master's degree programmes in Innovation Management and Public Management and Social Development

Behind the seminar were the two Heads of the Master's degree programmes, Dmitrij Slepniov (Aalborg University) and Duncan Wigan (CBS).

'The purpose was to build cohesion between the teaching staff and across the two social science programmes, to identify opportunities for cross course integration and programme upgrading, as well as to share insights into best practice on teaching. We discussed how to harness opportunities both in terms of developing teaching competences and research via collaboration in SDC,' says Duncan Wigan.

He noted that meeting in fosters both commitment and a common institutional identity.

As part of Wednesday's program, specific Master's degree programme workshops were held. This was an opportunity for the Heads of the programmes and teaching faculty to discuss how to enhance programme integration, and generated a host of new ideas and initiatives to continue upgrading the social sciences Master's degree programmes.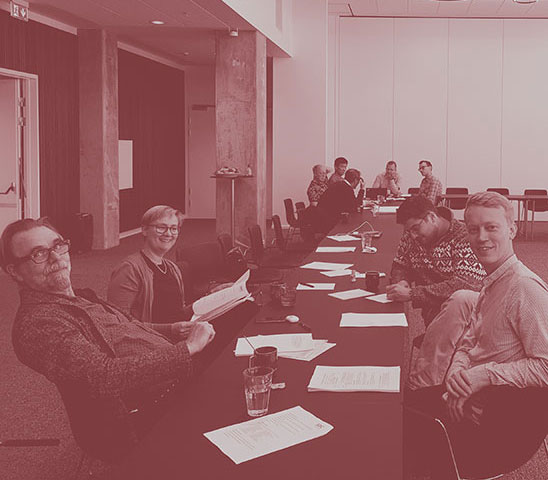 Important to get a sense of the whole
Associate Professor Adam Gordon from Aarhus University teaches the course Product Design and Development on the Innovation Management programme, and he was glad to get a better understanding of how the course he teaches fits in with the rest of the Innovation Management programme.

'If you are a teacher, you do your small piece, but you don't know exactly how you fit in educationally. Therefore, the seminar was incredibly important. I came away with a much more integrated sense of what the SDC is all about, even including its PhD programme. And also, an appreciation of the wider scope and rationale of the particular programme I work on."
The penny dropped
PhD student, Gro Thorbjørn Berg Sørensen, started her project on Artificial Intelligence and sense making at DTU in late 2020 and this seminar was her first real opportunity to meet the SDC Social Sciences group.

'The first thing that hit me was how many of the articles I have been reading that was actually authored by people that were at the seminar,' she says.

On the final day, Gro Thorbjørn Berg Sørensen and eight other PhD students had an opportunity present the progress and get input from each other as well as the senior researchers that were there.

'I received some very tangible ideas, that I can take on board immediately. Kristian Sund from Roskilde University really made the penny drop for me, when he suggested that I could include input from Chief Technology Officers at companies in my research,' she explains.

During those discussions it was suggested that it could be a good idea to have the researchers that work with AI in China meet up and exchange views.

Going forward, the SDC Social Sciences group will continue to take advantage of opportunities to meet up for the purpose of strengthening relations, exploring research synergies and upgrading the Master's degree programmes, explains Duncan Wigan.