Bringing in the sky
21 June 2017
One of the most striking interior elements in the new home of SDC will be a 2,000 square meter 'sky curtain' surrounding the main auditorium.

The designer and artist behind the artwork, Danish Astrid Krogh, was given a huge project, when she was asked to design the artwork. Besides being a characterization of the building itself, the sky curtain should also meet the needs for an acoustic solution and a shielding effect.

"The curtain will be integrated like big scale textile watercolour paintings on all glass panels, classrooms, workspaces etc. facing the main auditorium. The idea of a curtain is to make it possible to have a flexible solution, as it consists of a transparent layer, which preserves visibility, but still protects against insights. An additional velvet layer gives the option of blacking out the space as well as adding acoustic qualities," says Astrid Krogh.


Gigantic dimensions
Since the artwork is integrated in the building, Astrid Krogh has had a close collaboration with the Danish architects from Lundgaard & Tranberg Arkitekter who have designed the building. All curtains can be pulled in and out depending on needs, and bearing in mind the purpose of the room Astrid Krogh says that it has been important to find a way to make sure the curtain was not too eye-catching in spite of the gigantic dimensions. Furthermore, people in the main auditorium will still have clear view to the sky outside of the building because of the transparency.

Astrid Krogh has finished the design work, and at the moment she is waiting for a test curtain to be finished in China. Then she will leave for Beijing to make sure the curtain is as expected before the actual artwork is put into production.

The fabric will be produced by the Danish manufacturer of design textiles Kvadrat and afterwards it will be sewn in China. Astrid Krogh will go to China when the artwork is ready to be hung up – in time for the grand opening of the new building in September.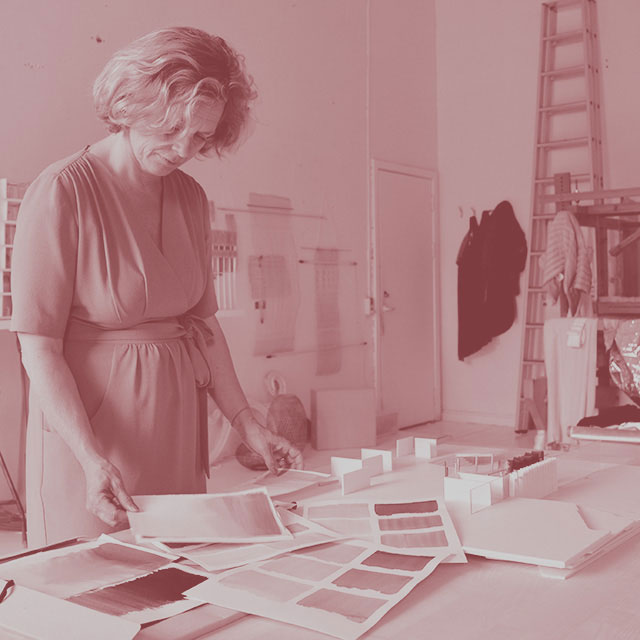 The artwork

1,800 squaremeters, 6.3 meters high ,
Designed by the Danish textile designer Astrid Krogh
The fabric is produced in Denmark and the curtain is sewn in China


China Blue

The colour scale of the artwork varies from white to deep blue representing the Danish and the Chinese sky melting together. One of the starting points for Astrid Krogh has been patterns, as they are of particular significance in China. She ended up with the Royal Copenhagen porcelain, the Blue Fluted pattern which is inspired by blue Chinese porcelain. This technique of cobalt blue decorations on porcelain is called 'Blue China' - this is how the artwork was named.