A lifelong learning memory!
27 June 2023
Spirits were high as the SDC graduates of 2023 were celebrated on campus in Beijing.

The 2023 cohort has had a particularly unusual study experience, considering their learning experiences were mostly done online because of COVID-19. Now, however, everybody is back in China.

Two cultures make for a better student
Among the individuals who are delighted to be back is Associate Professor Thomas Alrik Sørensen from Aalborg University, who teaches on the Neuroscience and Neuroimaging programme. He gave a congratulatory speech on behalf of the faculty.

'Congratulations – congratulations to you, dear (former) students. But also, congratulations to the SDC for managing to keep the studies going through covid, and congratulations to all of us for enduring some very abnormal conditions over the last three years … now we are back to normal again – we can be here, together – in person – as it is supposed to be!'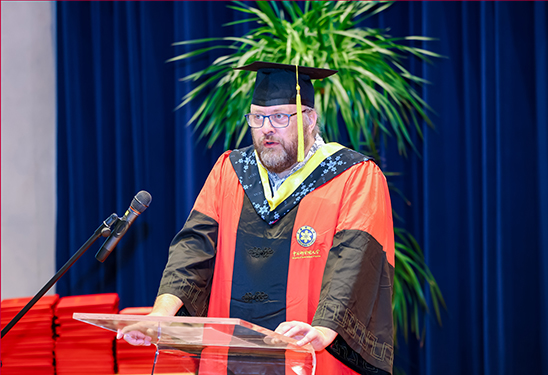 Thomas Alrik Sørensen also presented his perspective on the distinctive traits of SDC students going back 10 years, when he started teaching at SDC.

'Here I met the first batch of adventurous, hardworking, and brilliant SDC students. Maybe there is a selection bias in who the students are ¬– that the ones in this programme do not take the more established path, but rather search and carve out their own niche. ¬However, I would like to think, that similar to mixing copper and tin where you gain an alloy with a range of improved properties, then the combination of two very different worlds/cultures like Chinese and Danish rub off on each other and make for a better student. The students graduating here today take the strengths from each culture and emerge stronger into the world, than if they were graduating from either a Danish or a Chinese University,' he said.

Among the guests celebrating the recent graduates were President Zhou Qi of the University of Chinese Academy of Sciences, members of SDC's Joint Managerial Committee and the Danish Board of the SDC, which is made up of representatives from all the Danish universities.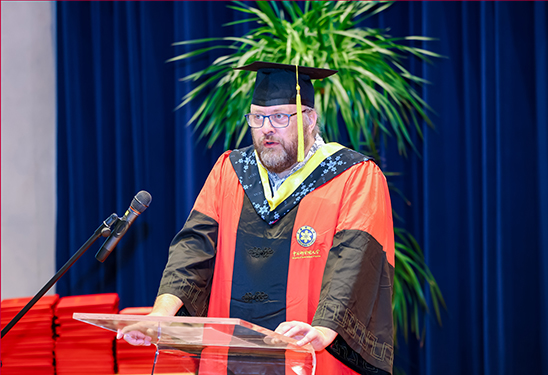 From a seedling into a tree
Wang Mengke from the Life Science Engineering and Informatics programme took to the stage and shared her thoughts on her time at SDC on behalf of the graduates.

'In SDC, we enjoyed the first-class college environment, we had the chance to study both in China and Denmark, and we received training from the world's top researchers. The faculty members in office are the guardians of our daily lives and studies. The students who are working hard in each programme are the motivation for us to learn from each other and keep improving. Our families and friends are always behind us unconditionally. We work hard to absorb nutrients in this fertile land and strive to grow from a seedling into a tree. Now, we are gathered, with the smile on the face to prove our growth. On behalf of all graduates, let me say thank you to those who have brightened our past years. Thank you, SDC for giving us such a lifelong learning memory!'

For most students, graduates and staff, the holidays are approaching swiftly, and it is time for a well-deserved respite before a new cohort of students will make their own experiences at the end of August.