"The opportunity was handed to me on a silver platter"
10 December 2014
Johannes Thomsen did not need much time to consider the alternatives when he became familiar with the opportunity to study a Master's degree in Nanoscience in China

At that time he was single and lived in a dorm room in Copenhagen, in other words nothing prevented him from going. He knew for certain that if everything went wrong he could return to Denmark, get a credit transfer and study another Master's degree, so he decided to go.
Half a year later he was enrolled to the programme and on a plane bound for two years in Beijing.

Today, almost two years later, he is busy writing his Master's thesis within 'Nanoscience and Technology' in his dorm room in Beijing. Together with a fellow student from his Bachelor programme in Biochemistry he has been studying at SDC since 2013.

"I have always wanted to go abroad, but it seems like there is a lot of bureaucracy associated with studying in a foreign country. Long-term planning has never been my strong point, and suddenly the opportunity was handed to me on a silver platter. It was easy," says Johannes.
Along with nearly 50 other Danish students he landed in Beijing in August 2013. They had been travelling for 16 hours, the temperature was 30 degrees, the smog made the view misty, and when he got his suitcases to the 5th floor and opened the door to his room, his first thought was: "What have I done?," says Johannes with a laugh.

Today, life in Beijing is a normal everyday life, the dorm is a cozy home, his friends live at the same floor or the one below, he has a Chinese girlfriend, and he has been to a lot of places all over Asia.


The meeting with the Chinese laboratories
In general the laboratory life in China is somewhat different compared to the University of Copenhagen. First of all the facilities are smaller and secondly more people have access to them, which means that on peak days equipment is in a great demand.
Johannes is studying together with both Danish and Chinese students. The first year the teaching has taken place in classrooms with a few trips to laboratories, while the second year has been devoted to laboratory work. Compared to Denmark, students in China wait a long time before they are allowed to work on their own in laboratories. They get introduced to the facilities by watching a teacher doing the research experiments. Then the students bring the data material home to do the calculations.

"It took me some time to convince the teachers that I have a Bachelor degree, and during my education I have learned how to work in laboratories. Now I am working just as independently as I would in Denmark," says Johannes.


A close-knit group of students
It was important for Johannes that he traveled to China together with a bunch of other Danish SDC-students. Regardless of the fact that they all had different fields of studies he tells that they very quickly got together and established a close-knit group.

"Nobody knew each other, but we quickly found a sense of community. In the beginning when everything was new and strange, it was great to know other people with the same cultural background as myself. It was the same things we wondered at and were frustrated about," says Johannes and continues:
"If I had been the only Dane I think I sometimes would have considered going home. But our community spirit is so strong, we are together all the time and when we sit on the rooftop of the dormitory and discuss things, everything quickly looks much better."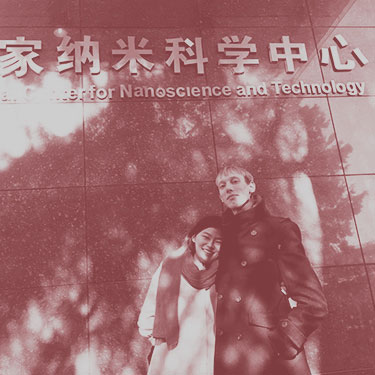 Now I can speak Chinese
Almost a year ago Johannes met his Chinese girlfriend Hongxia Hu. They mostly speak English together, but Johannes' decided prior to his departure from Denmark that he would make a serious effort to learn Chinese. He has therefore attended all the Chinese lessons SDC offers to the Danish students. The combination of self-studies prior to his departure and a summer course means that he already can have small conversations, read basic characters and he speaks enough Chinese to get around.
Johannes has always been fascinated by Asian languages because they are so different from Danish. His interest in learning Chinese got even stronger when he found himself powerless due to the fact that not many Chinese taxi drivers or shop assistants speak English.
"I have had two years in China, and it means that I have had the chance of my life to learn Chinese. Compared to a classroom in Denmark I have all the right conditions for succeeding. Of course I have taken this chance even though it requires a lot of patience," he says.
Attracted by Danish biotechnology companies
Besides two diplomas, Johannes is convinced that he gets a great personal experience.
"I have become much more proactive. I know myself much better, and I have experienced that the only limits are the ones you set yourself when you consider things at length. The fact that I have been able to settle down so far away from home and in less than two years get to know the language, the culture and have a normal everyday life, has opened my eyes to the fact that I am able to cope with more than I thought," says Johannes.
After his graduation from SDC he expects to return to Denmark and work in a biotechnology company. Even though he still is a little divided when it comes to the future.
"China is a difficult size. On one hand I would like to stay, but on the other hand I would really like to pursue the job opportunities in Denmark," he says.
And of course it contributes to the dilemma that his Chinese girlfriend not will graduate until a year after Johannes.
Despite everything, first thing on his to-do list is to finish his master thesis so it can be submitted and defended.