Our Danish family
30 November 2015
Gao Ya and Hu Wenmiao's two month study trip in Denmark has come to an end, and so does their stay with the Lambertsen family in small town Gug outside of Aalborg. The two Chinese girls has chosen to stay with the Danish family, because they wanted the opportunity to experience life in Denmark first hand

It all started in July 2016 when Jens and Bente Lambertsen went to China for 18 days with their two youngest sons to visit their oldest son, Martin Lambertsen, who has been studying Innovation Management in Beijing since 2014.

Upon the family's arrival at the airport in Beijing, Martin's classmates Gao Ya and Hu Wenmiao were there to welcome them and to help make sure they got to the hotel alright. The Danish family and the two girls subsequently went to several dinners together and visited Gao Ya's family in Baoding a few hours from Beijing in the following weeks.

"The girls were there to meet us at the airport; they helped communicate with the staff at the hotel and were always available on the phone when we needed them. They were such a big help to us, and they had a big part in making our trip to China a fantastic experience," explains Jens Lambertsen.


Returning the favour
When Martin Lambertsen learned that Gao Ya and Hu Wenmiao would get the opportunity to study in Aalborg in the autumn, he quickly asked his parents in Gug if the two girls could live with them and his younger brother, Morten, during the stay. At first two months seemed like a long time to house two Chinese students, but Bente and Jens decided to invite them to come and live in Gug.

"Gao Ya and Hu Wenmiao are very good people, and they helped us a lot when we visited China. I'm sure they have also taken care of our son, Martin, out there, so of course we wanted to be there for them during their visit to Denmark," says Bente Lambertsen.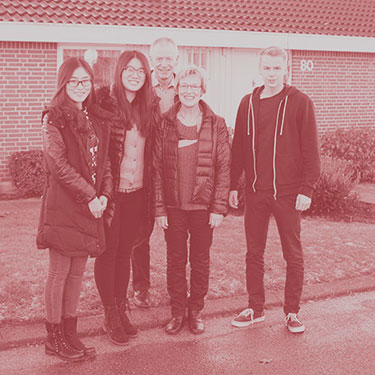 For Hu Wenmiao, helping Martin and his family in Beijing was the natural thing to do, and she is glad to have become friends with them.
"Martin is our friend, so of course we wanted to help his family. We met them in Beijing, and they are nice people, so we wanted to stay with them when they offered to let us live in their home," says Hu Wenmiao.
Experiencing real Danish life

Hu Wenmiao and Gao Ya are just two of ten students who were in Denmark on the study trip. The other eight lived together in Aalborg, but Hu Wenmiao and Gao Ya agreed that staying with the Lambertsen family was a unique opportunity to experience real life in Denmark, and felt they would benefit from daily conversations around the lunch and dinner table.

"When we eat together the talk is very informal, and we can discuss many aspects of life like marriage, education and parenting. There are many differences in the way of thinking between Chinese and Danish, and that is good for us to know," explains Gao Ya.
"No matter how we decided to go to SDC we now have our Danish family and Danish friends and relation to Denmark. We don't know if we will have a connection to Denmark and Danish companies in our future careers, but the more we know about Danes and Danish culture the better for us. We still don't know if we can pursue our careers in this cross cultural setting, but we will see," says Hu Wenmiao.

During the past two months Gao Ya and Hu Wenmiao have attended lectures at Aalborg University, worked on projects and visited several companies, including Maersk Drilling and Danske Bank with their co-students. The purpose has been to familiarize Chinese students with Danish teaching methods, society and to introduce companies and students to each other.
Living the Danish way

Ahead of their arrival Bente Lambertsen was unsure if their house guests would eat the cold meals that are custom at breakfast and lunch in Denmark, but they ate everything they were served including seedful rye bread with marinated herring.

"One day we thought the girls might like to eat something a bit familiar, so we suggested that we go to a Chinese restaurant in Aalborg. However they said that they would rather go to a Danish restaurant. That actually is very indicative of their stay. They have both been very interested in our culture and asked lots of questions," says Jens Lambertsen.

"Of course there are cultural differences. We come from two completely different places in the world, but in terms of being nice to each other we are pretty much the same," smiles Bente Lambertsen.

Keeping in touch
The visit is over. Gao Ya and Hun Wenmiao have left Gug and returned to the crowded streets of Beijing. However, they have all expressed a desire to stay in touch through WeChat and FaceTime. The girls have also told their Danish hosts that they can look forward to being invited to future weddings in China.